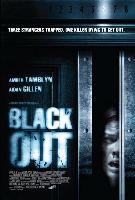 Overview
---
Genre
Thriller

Release Date
January 13, 2009 (DVD)

MPAA Rating
R

Studio
Capitol Films


REVIEWS RATE: Critics
N/A

Readers

[Rate It]
Cast and Crew
---
Director
Rigoberto Castaneda
Producer
Valerio Morabito
Screenwriter
Ed Dougherty
Starring
Story
---
The clock ticks for three strangers trapped in an elevator. A high-concept serial-killer thriller with a terrifying climax.
Claudia (Amber Tamblyn) is a young woman in a hurry to return to the hospital bedside of her dying grandmother. Tommy (Armie Hammer) is a young punk on his way to elope with his girlfriend Francesca (Katie Stuart) and rescue her from the physical abuse by her drunken father. Karl (Aidan Gillen) is a husband and father with guilty secrets that must be erased from his apartment before his wife and daughter get there. All three, in other words, have an urgent need to be somewhere else. But all three are trapped in an elevator one holiday weekend in a deserted building.
Karl, the oldest and possibly wisest of the trio, seems most calm about their situation. Tommy, who possesses a knife, is the first to panic, and the first to attempt an escape through the lift shaft. The grisly result is a broken, blood-spattered leg with a protruding bone; and an elevator with a broken cable that is now supported only by the emergency breaks consisting of two iron hooks. Karl, a doctor, tends to the boy's gaping leg wound, and asthmatic Claudia passes him the single bottle of water that is the trio's sole defence against the stifling airless heat. Then Karl lights up a cigarette...
A series of rapid flashbacks lets the audience briefly draw breath, with back-story revelations in the principals' lives that serve to amplify the characters' troubles. Then comes the first big twist: two of the beleaguered strangers face much more intense peril than they ever thought possible as the third is revealed to be a serial killer fresh from a bloody crime scene.
The clock keeps ticking in this intense, tightly scripted, high-concept psychological thriller, which combines an atmosphere of dark foreboding with high-stakes jeopardy. Propelled by escalating tension and conflict between an increasingly desperate Karl, Claudia and Tommy, BLACKOUT hurtles towards a horrifying conclusion.