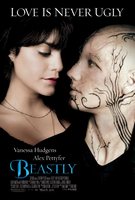 REVIEWS RATE: Critics Readers [Rate It]
Reader's Reviews
---

I really love this love story ! ! !
posted by

Josefina Marcos

on Apr 03, 2014 02:01:18

Neil Patrick Harris (The blind guy) was one of my favorite people in the movie :)
posted by

beastlyyyyyyyyy12345

on May 11, 2011 07:27:25

love the movie but the ending was no surprise.
posted by

beastlyyyyyyyyy12345

on May 11, 2011 07:26:10

love the movie beauty and the beast. so i cant wait to see wat they do with it. love vannesa and alex.dont understand y ur all cmparin this 2 twilight. Twilights bout vampires. This is about a curse. Twilights awesome just because of the imagination used. stop dissin it. They're both Great.
posted by

luv2die

on Apr 15, 2011 03:41:39

i liked the blind guy haha he made the movie so funny!! (WHASSUUUUUPPPPP??!!!!!)
posted by

ohdangletsbang

on Mar 05, 2011 03:30:55
Not trying to be bitchy, but i honestly dont like vanessa hudgens, but subtracting my personal dislike 4 her, i dont think she should play linda. Linda doesnt have the confidence that vanessa carries around with her in her every movement. Even tho i dont like vanessa, shes still 2 obviously pretty, the thing about linda is that her beauty is modest and far from the typical modern idea of beauty. Poor casting choice in my opinion. I just hope vanessa can prove me wrong and actually act decently.
posted by

Nikkita

on Feb 17, 2011 11:00:20
The song that plays through most of the trailer is. TRANSATLANTICISM. That's the name of the song
posted by

Redshoes

on Feb 13, 2011 10:59:52
error: the track 12 is broken arrow by pixie lott LOVE VANESSA for sure your biggest fan
posted by

gabriel

on Feb 12, 2011 11:52:54
(From what I've seen in trailers) I like the movie version of Kyle's ugliness than the book's. It's modern and doesnt make it seem exactly like Disney's beauty and the beast. I like the changes. And not all movies are exactly like the books. :)
posted by

Jenny

on Jan 05, 2011 03:10:30
I lOVE Vanessa Hudgens she the best. I love all the films she is in. I cannot wait until Beastly comes out. Bandslam Rock! I Love you Vanessa
posted by

!

on Dec 05, 2010 12:48:41
i just love vanessa.i love to watch her movies.i have 10000 photos others materials of hsm.i justt want to meet once.i am going to watch hers beastly and band slam.seeyaaa
posted by

riabangera

on Aug 10, 2010 04:35:19
i can,t wait this movies i,m really excited to see this movies, i love vanessa..
posted by

amor williams

on Jul 30, 2010 10:21:38
Loved the book, but i learned through time that there has to be differences between books and their movies. and i think the changes in the movie are for the best, i mean come on, can you really stand to see Lindy falling in love with a dog look-a-like?!! and Lindy in the movie looks a bit stroger than the book Linda who annoyed me a bit with her (i never had that before) can't wait to see the movie, it really looks great anad it'll totally kick Twilight's sparkling A**
posted by

itoy247

on Jul 24, 2010 02:37:58
hi bueno yo no eh visto la pelicula pero se ve que esta muy interesante y que tiene algo que enseñar como lo que lo material y lo superficial no son lo mas importante me agrada el trailer y no puedo esperar para poder ver la pelicula saludos chao
posted by

areli

on Jun 29, 2010 08:58:19
Ive read the book and its wonderfull I wish that the movie dont scrap it, Alex its perfect as kyle he is very hot and if he like he got that arrogant air so it fits, but I cant say that about vanessa what part of red hair, princkles and green eyes doesnt fit in the mind of the people who do the casting? I really doesnt like how she act, the msu have givven the oportunity to another actress less known but good I hate the idea of vanessa as linda it freak me out! Besides vanessa the casting looks good so Im just going to expect, Ive wouldn chosen mary-kate olsen as kendra but in the thriller she fits in the characher so Ive changed my mind, I wish with all my heart that this movie doesnt destroyed the beauty of the book and my favourite fairy tail, the beauty and the beast
posted by

catalina

on May 20, 2010 09:45:40
I don't usually enjoy this type of modern take on fairy tale type thing but this actually looks pretty good also it has a pretty good cast, since Neil Patrick Harris is in it there is going to be some humor, hopefully it won't disappoint. The song in the trailer is Transatlanticism by Death cab for cutie
posted by

mia

on May 05, 2010 09:22:14
Looks good...
posted by

Mandip

on Apr 27, 2010 11:37:42
What are the music played in this trailer?
posted by

Pip

on Apr 27, 2010 07:15:56
whats it the nanme of the song in the biggining of the movie trailor?
posted by

veron

on Apr 23, 2010 08:22:13
i gotta see this movie!!!!
posted by

leahrowell

on Feb 26, 2010 06:06:24
i think i'll watch dis movie, it's worth a try, c'mon it won't kill!!!! but twilight was a gud movie nd honestly watever u say 'bout venessa, u can't deny d fact dat she can act like a geek or a simple girl so frm my point of view she shud hve been given d role of bella. 'coz no offense 2 all d kristen fans but she's ugly!!!!!!!!!! even venessa is but v all noe dat she's better than kristen both in acting nd in looks...
posted by

b-o-r-e-d by luv sto

on Feb 25, 2010 05:56:13
vanessa!!!!!!
posted by

newyorkrox101

on Feb 24, 2010 06:40:37
can wait to see this movie when it opens in london. alex pettyfer is the worlds hottest actor.
posted by

emily

on Feb 23, 2010 07:41:36
Alex pettyfer is the hottest Actor in the world i love you Alex !!!!!!!!
posted by

jaquie

on Feb 14, 2010 04:23:04
i loved the book,can't wait to see the movie
posted by

jkkd

on Jan 11, 2010 09:34:08
can't wait for the movie, people need sth new after twilight
posted by

sk

on Jan 05, 2010 04:03:36
i loove alex pettyfer!!!he is soo hot! i will see that movie a million times
posted by

esther

on Dec 14, 2009 10:34:39
sorry no 1 mentions mary-kate olsen dhe is a brilliant preety girl (and her sister) and i like her
posted by

jessica

on Dec 14, 2009 08:05:17
Vanessa Hudgens rocks!!! <3
posted by

DeeDee1Whoa

on Dec 12, 2009 08:18:20
hate all the actors and wheres all the hair covering all of his skin? if theres a successful story DONT CHANGE IT IDIOTS
posted by

jazz-the0red

on Dec 07, 2009 06:43:02
I'm looking forward to seeing this movie!!Vanessa is great!And of course because Alex playing,who is really gorgeous,this movie is going to be really great!!
posted by

rtyui

on Dec 05, 2009 10:45:57
cant wait i love vanessa
posted by

i love zanessa

on Nov 21, 2009 11:22:42
Cant Wait!!!!!!!!...i agree twilight is awesome, but its good to see something different. i hope i like it!! (=
posted by

Liz

on Nov 03, 2009 09:42:17
I love Alex!!!!! I love Vanessa!!! And i llove Beastly!!!
posted by

Hfa

on Oct 13, 2009 01:46:21
CANNOT WAIT!! I don't think Vanessa is great or anything..but I think she's stunning and she looks amazing with Alex. I'm gonna give her a chance..cannot wait!!!!!!!!!!!!!!I think it's gonna be better than twilight...uggh..hate twilight
posted by

CANNOT WAIT(LOL)

on Sep 28, 2009 11:53:15
i luved the book. hope the movie lives up to the standard
posted by

lovely

on Sep 26, 2009 02:06:19
I loved the book, and I am really excited for the movie.
posted by

morgan

on Sep 23, 2009 09:03:08
definately watching this movie!
posted by

jjk

on Sep 18, 2009 03:31:29
I'm looking forward to seeing the movie. I think Vanessa & Alex will be great together!
posted by

fan

on Sep 02, 2009 06:44:15
seems ok but i h8 vanessa
posted by

violet95

on Aug 13, 2009 09:13:30
wth major loser! mwahahah
posted by

fhskjfh

on Jul 19, 2009 10:56:00