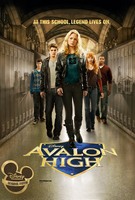 Overview
---
Genre :
Fantasy, Family
Release Date :
November 12, 2010 (TV Premiere)
Director :
Stuart Gillard
Starring :
Brittany Robertson
,
Gregg Sulkin
,
Molly C. Quinn
, Devon Graye, Steve Valentine, Craig Hall, Joey Pollari, Christopher Tavarez

REVIEWS RATE: Critics
N/A

Readers

[Rate It]
Reader's Reviews
---

I LovE thE moviE!! adorEd, worshippEd, Etc.. I hopE DisnEy will makE a sEquEl of this!! :D
posted by

agentC

on Aug 04, 2011 06:55:46

this is a great movie :) gregg sulkin is sooo cute xxxx
posted by

katy 388

on Apr 10, 2011 12:59:55

I love it soooooooooo much but i hear it is out on dvd on december i5 2011 i don't want to wait that long
posted by

rroberts

on Feb 11, 2011 09:55:40

i love this i cant wait for to come out on dvd cause i will buy it straight away i never read the books but i think i am gonna have to please make 2 more films but dont change the actors keep will as greg sulkins and the rest please x
posted by

crystal shaw

on Feb 01, 2011 03:32:39
The movie SUCKS! read the book and whatever you do dont buy the movie!!!! trust me the movie sucks!!
posted by

P.H

on Jan 14, 2011 03:17:53
Hello, I would like to know when Avalon High is coming out on DVD, because i want it for christmas 2010
posted by

Sunshine

on Dec 11, 2010 09:46:55
i havent seen it yet but i hear its amazing! i hope it comes out on dvd soon.
posted by

gymangel220

on Dec 06, 2010 05:59:40
This movie was awesome! I loved it and had such a surprise that just wow'd me! love it!
posted by

nwpmen

on Nov 17, 2010 08:47:39
This movie was great! I think there should be a 2nd and 3rd movie because there are 3 books! Please please make 2 more movies about it! It just wont make it complete with out the rest of the books filmed!
posted by

itallgood15946

on Nov 13, 2010 02:39:57
I love this movie it is the best wish that could happen to a girl like me
posted by

48redhead12

on Nov 06, 2010 04:15:31