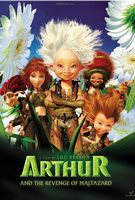 Overview
---
Genre :
Animation, Fantasy
Release Date :
February 05, 2010 (UK)
MPAA Rating :
PG
Director :
Luc Besson
Starring :
Freddie Highmore
,
Selena Gomez
,
Stacy Ferguson
, Penny Balfour,
Mia Farrow
,
Jimmy Fallon
,
Snoop Dogg
, will i am,
Lou Reed
, Robert Stanton, Matthew Gonder

REVIEWS RATE: Critics
N/A

Readers

[Rate It]
Reader's Reviews
---

OMG I Love Arthur
posted by

Hafsah Awan

on Apr 07, 2012 03:03:27
i hope..there will be part 4 of the movie arthur..cause i really love watching this movie..i wish the movie shall have many part...
posted by

jane

on Jan 13, 2012 09:56:14

The 3 movies all together were great I loved them! I only didn't liked the ending of the last movie it was too...disappointing! Arthur and Selenia are so cute :3
posted by

Maria

on Nov 12, 2011 02:33:14

It must be one of the best soundtracks I ever listened along with the first film's soundtrack Arthur and the Minimoys...this music is magical,Eric Serra is great! :)
posted by

Maria

on Nov 12, 2011 02:30:32

Arthur 3? Not for me!
posted by

Kid

on Jan 14, 2011 04:31:27

How do you explain to a very disappointed 8 yr old why a seemingly good movie would end like that. He wants his money back. Not happy Arthur!
posted by

Mum

on Jan 14, 2011 04:30:18

I cant believe that movie ended like that. Did they run out of money or something? Good animation but a crap story really.
posted by

dad

on Jan 14, 2011 04:26:38
sorry but what order does this film come in? like what is after Arthur and the invisibles? and after that one and that one and that one till the last one? i really don't what which order this film goes in, i see lots of new ones and i cant seem 2 tell what order is in? like i see arthur and the great adventure, arthur and the forbidon city, arthur and the maltazard, arthur and the invisbles 2, arthur and the war of two worlds, arthur and the minimoys!!??? im sorry i dont get what order they all come in??? :/ plz help meeee???? :?
posted by

china

on Dec 29, 2010 08:26:48

i love selenia because she is selena gomez
posted by

asia

on Jun 05, 2010 01:38:27

Really love this movie..and i actually didn't expect the ending is like that..really can't wait for the 3rd...LOVE IT!!
posted by

Jc

on Apr 24, 2010 01:16:24

loved it
posted by

elizabeth

on Apr 17, 2010 05:56:20

I think it was the worst movie ever made. I agree with cat, it seemed like a prelude to the 3rd movie. There was no action, no emotion, no climax, no anything. A really, really bad movie
posted by

paushi

on Apr 04, 2010 11:44:34

The movie felt like a very long prelude to Arthur 3. At the end all 5 of us (3 kids) said "that's it?". it felt unfinished.
posted by

cat

on Apr 03, 2010 07:53:22

It was great but I thought that the movie didn't end quite well.I didn't expect it to end that way. Can't wait to see arthur 3! They say its coming this 2010.
posted by

geo

on Apr 01, 2010 10:53:35

Very good movie
posted by

Jessica

on Mar 21, 2010 06:28:38

I think it is the most beautiful film that I ever watched...:D
posted by

özlem

on Feb 22, 2010 01:34:43

din wach it yet!!..bt still is realli nice!!
posted by

:D

on Nov 27, 2009 12:52:17

o7nqK0
posted by

Pthlsueh

on Jul 14, 2009 07:10:34