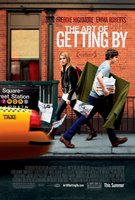 REVIEWS RATE: Critics Readers [Rate It]
Reader's Reviews
---

The soundtrack is very nice...the movie is O K.
posted by

alton

on Sep 05, 2011 10:32:13
FREDDIE FTW!HE WILL BE AWESOME FOR THE...UM...1.OOO.OOO TIME!FREDDIE-FRENIA!WATCH THIS!
posted by

lEnOn DoNaHeW

on Jan 26, 2011 12:38:43
I want the soundtrack
posted by

blabla

on Jan 23, 2011 05:09:20
Just saw the movie it was awesome I highly recommend it. Very well done
posted by

blabla

on Jan 23, 2011 05:08:30
This movie is premiering during the Sundance film festival in Park City, UT.... It will probably be in theaters/dvd afterwards.
posted by

sundance

on Jan 13, 2011 02:24:51
When it comes out NO WAY I lose Freddie and Emma!When I saw the photo above,I realised it was Freddie times later!Whatever the movie is about he makes it cool and Emma too!(saw him with cool hair in one scene he's fucking amazing and Em was like Hayley Williams wtf!)PEACE!:D:D:D
posted by

Anais Anonymous

on Jan 06, 2011 02:08:21
Love Freddie,he gets hotter he is amazing actor!Hope that Freddie is reading this,greetings from Greece and I think that you should be a winner of many awards!(P.S.Will you ever come too Greece?)Emma is a very nice actress and girl,btw!
posted by

Maria

on Jan 06, 2011 01:59:29
metune kapan ki? penasaran
posted by

ll

on Dec 30, 2010 01:23:15
where can i watch the trailer?
posted by

imanonymous

on Dec 10, 2010 08:57:08
where is the trailer? i want to see it, and the movie!
posted by

rabbit9

on Aug 08, 2010 12:37:05
I LOVE FREDDIE HIGHMORE
posted by

Meet Dave

on May 20, 2010 09:56:02
i so want to see this i love FREDDIE HIGHMORE and michale A
posted by

BOOOOo

on May 20, 2010 09:55:19
never herd of this?????
posted by

sophie

on Apr 24, 2010 11:20:16