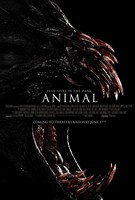 REVIEWS RATE: Critics Readers [Rate It]
Reader's Reviews
---

I LOVE THIS MOVIE, ESPECIALLY WITH keke Palmer, and Liz they are awesome
posted by

HI

on Feb 06, 2015 02:11:46

Great movie, really old fashioned horror like it's supposed to be. Very well done!
posted by

Gillian

on Jul 01, 2014 06:01:52

Loved it!
posted by

Dolf

on Jun 28, 2014 05:31:04

Really scary it was fun!
posted by

Dobby

on Jun 25, 2014 05:08:39

I'm so glad I finally saw Animal! I loved it! Liz Gillies is great!
posted by

Lucy

on Jun 24, 2014 04:48:11

I saw Animal this weekend and it was great! Don't wanna give spoilers but indeed the last scenes were so fantastic! Liz and Parker were really cute <3
posted by

Thura

on Jun 23, 2014 05:29:12

Great movie, scary but also funny sometimes. Liz Gillies looked gorgeous as always. Last scene was the best.
posted by

Avan

on Jun 23, 2014 03:53:03

I love this movie! Good cast, quite original twists in it and very good effects for a low budget movie. I especially loved Liz Gillies playing Mandy, she did an outstanding job!
posted by

Frederique

on Jun 20, 2014 11:43:34

GOOD
posted by

animal

on Jun 20, 2014 02:42:56