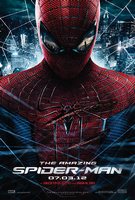 Overview
---
Genre :
Superhero, Action, Sci-Fi
Release Date :
July 03, 2012
MPAA Rating :
PG-13
Director :
Marc Webb
Starring :
Andrew Garfield
,
Emma Stone
,
Rhys Ifans
,
Sally Field
,
Martin Sheen
,
Denis Leary
, Irrfan Khan, Campbell Scott, Annie Parisse, C. Thomas Howell, Julianne Nicholson, Chris Zylka, Miles Elliot

REVIEWS RATE: Critics Readers [Rate It]
Reader's Reviews
---

im always wacht this film,, its so very amazing
posted by

Genta

on Nov 06, 2014 01:11:11
Can you haple me?
posted by

sourng sophrap

on Apr 01, 2014 02:06:48

Amazing is an overstatement. This wasn't any better than Spiderman 3.
posted by

John

on May 08, 2013 04:00:22

This movie is great! different from version Sam Raimi. The Amazing Spider-Man:more human, more entertaining. This movie IS AMAZING!!!
posted by

Rhys

on Jul 13, 2012 03:52:03
WELL I HATE TWO THINGS FIRST THE SPIDERMAN REBOT IDEA SECOND THAT GUY NAMED JOE QUESADA NUFF SAID
posted by

SPIDERMAN

on Feb 20, 2011 06:20:16
Come on guys. Why all the hate on the movie? Its not even out yet. The reason they couldnt make 4 was because of alot of production problems leading to the director leaving the project. Thankfully Sony was smart and had a plan B. A movie script for the reboot that they had worked on just in case. Also Marc Webb (Director) is praised for (500) Days of Summer and the movie is based off of the Ultimate Spiderman comics which have great stories. Im holding hope for this movie. If you guys don't thats totally fine, but dont go hatin' and saying it sucks when its not even a real movie yet. Yes the actors are different, and yes its a new director, but all because there's change doesnt mean its bad.
posted by

BigRed125

on Feb 06, 2011 09:17:11
I'm pretty excited that Andrew Garfield is playing spider-man :) he was amazing in the social network movie.
posted by

MS

on Jan 18, 2011 09:57:33
You know this movie will suck big time. But lets wait it may turn out to be owesome you never know.
posted by

Stephen macharia

on Jan 14, 2011 03:22:34
You know this movie will suck big time.
posted by

Macha stephen

on Jan 14, 2011 03:19:46
I can not wait till spierman reboot the movie comes out!!! I wonder what the villains are I think one is Carnegie and I know that lizard is in but uncle Ben is still a live what but he died and why has aunt may the actor for her has change and uncle has change damn this crap this is poo I cant believe tobey would have been the best but this will be the most stupid movie
posted by

Brunolat

on Jan 10, 2011 04:52:39
Another boring remake. Why? They should have move on with the 4th movie. And Peter and MJ would have got married! This movie is gonna suck big time. :( :(
posted by

Angel7170

on Aug 22, 2010 08:03:10
is this going to be spiderman 4 or another remake!
posted by

shomo2

on Aug 15, 2010 12:44:41
what happened to tobey maguire? wtf!
posted by

shomo2

on Aug 15, 2010 12:43:14
tobey maguire is not going to be in it.this movie is going to suck
posted by

bball

on Aug 01, 2010 07:14:26
i wish they carried out spider man 4, im going to miss that series, its what got me hooked on spiderman, but, i will see this one, but it might be the last movie i ever see in theaters.
posted by

idc

on Apr 19, 2010 03:58:32