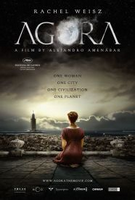 Overview
---
Genre :
Adventure, Drama, History
Release Date :
May 28, 2010 (Limited)
MPAA Rating :
R
Director :
Alejandro Amenabar
Starring :
Rachel Weisz
, Max Minghella,
Oscar Isaac
, Ashraf Barhom, Michael Lonsdale,
Rupert Evans
, Sami Samir, Homayoun Ershadi, Manuel Cauchi

REVIEWS RATE: Critics Readers [Rate It]
Reader's Reviews
---

One of the best movies I have ever seen, it will be in my memory for a long long time....It really reflects what we suffer in our world...when people are mislead by the ambitious religious men....
posted by

Nahla

on Oct 26, 2010 02:31:57

As former history teacher Agora blunders in saying that the Great Library was burned by the early Church. My research tells me that between the years 634-544 Muslim Caliph Umar ordered the library burned. Hollywood in its attempt to suck-up to Muslims blames Christians for acts committed by Muslims. Just another attempt to bring Christianity down in this country. Think I'm lying-do a bit of research yourselves.
posted by

Catholic Crusader

on Jul 23, 2010 09:53:40
Hey, I'm from Mexico and i watched the movie a couple of days ago and I can't wait to the the DVD. I agree with Omar about how religion can make people so blind and ignore how others think and feel..... My sister's name is Hypatia, by the way :)
posted by

Luis Colomo

on Apr 13, 2010 04:42:53
I am from Greece, and I just saw the movie today. I was ecstatic! I was hoping for such a movie for quiet a few years. So... I would like DOUBLE-thanks Spain for giving us such a masterpiece! Enough with the Hollywoodian propagandas and slaughter of history! Time for the world to see the "other side of the coin", too.
posted by

yannis fotis

on Feb 02, 2010 05:38:12

I am from spain so I could see the movie yesterday and i have to say that this film is an absolutely masterpiece about how the religion make people go crazy... breathtaking and the end just break my heart...
posted by

Omar

on Oct 11, 2009 06:27:26

hope to see this man back in malta alejandro with all his talent again in another movie been there doing leather work regards edward malta
posted by

edward seychell

on Jun 16, 2009 01:42:31

It should have won at cannes this year!!!
posted by

maltser

on May 25, 2009 12:21:41

I do also know it'll be good. Did Amenabar composed the music as well?
posted by

yeah

on May 18, 2009 11:26:26
the music gives me goose pimples
posted by

agora

on Feb 27, 2009 08:51:12

breath taking, extraordinary,a must see movie
posted by

agora

on Feb 25, 2009 09:07:26

And I'm fucking the director so I know it's going to be even more than extremely good.
posted by

Mateo Gil

on Jan 31, 2009 06:17:23

I had an important role in the making of the film so I KNOW it`s going to be extremely good
posted by

Agora

on Aug 28, 2008 00:00:00