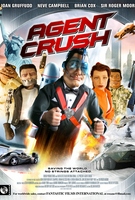 Overview
---
Genre
Animation, Adventure
Release Date
February 07, 2008 (European Film Market)
MPAA Rating
PG
Studio
Fantastic Films International
Official Site
click here

REVIEWS RATE: Critics
N/A

Readers

[Rate It]
Cast and Crew
---
Director
Sean Robinson
Producer
Tony Ludwig, Barrie Robinson
Screenwriter
Sean Robinson, Barrie Robinson, Mark York
Starring
Story
---
A short time from now in a neighbourhood not far away ..
The World has become a mash of high technology; and transportation, politics and industry have evolved. However much remains unchanged, like New York's East Side, where the buildings are timeless. Another thing that still remains is crime, and like the technology, it's got a little bizarre!
The World Security Network was founded on a premise to maintain the balance and fight crime everywhere, an amalgamation of all law enforcement on a planetary scale, comprising the best of the military, the police and other services.
To this end, a new type of secret agent has been, quite literally, created. Ultra technology and artificial intelligence are commonplace, and Agent Crush is the ultimate evolution of both, but in humanoid form. Just one problem, a few things are not working quite right.
Crush is accident prone: everything he touches goes to pieces, every situation he enters becomes a war zone. Against this is his creator's faith that given time the problems will be solved, unfortunately the powers that be don't share this optimistic outlook.
Things are made worse by the revelation that the original project prototype - Boris - is on the loose. Boris Goudphater's brain was - quite literally - twisted. Now having escaped from a recycling masher halfway through cycles, he is as seriously demented physically as he is mentally.
Goudphater has a gargantuan plan for the World - where he sees a great future of peace for all, co-operation on an unprecedented scale, and a world of tranquility - but first he has to rid the planet of all the humans living there.
Equipped with a number of high tech devices, and accompanied by his genius inventor Spanners and Spanners' daughter Cassie, they must stop Goudphater at all costs, and discover the secret behind his plans before it is two late.
The action is a race across the planet, from Earth orbit to the frozen wastes of Siberia, and the mean streets of The Bronx to the heart of an erupting volcano.
Will Crush save the day?