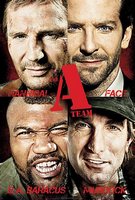 Overview
---
Genre :
Action, Adventure, Comedy
Release Date :
June 11, 2010
MPAA Rating :
PG-13
Director :
Joe Carnahan
Starring :
Bradley Cooper
,
Liam Neeson
,
Quinton Jackson
,
Sharlto Copley
,
Jessica Biel
,
Patrick Wilson
, Dirk Benedict, Dwight Schultz,
Gerald McRaney

REVIEWS RATE: Critics Readers [Rate It]
Reader's Reviews
---

LOVED IT, Bradley see u soon!
posted by

Futurenessness

on Aug 08, 2010 09:29:41

looks wicked
posted by

bball

on Aug 01, 2010 01:06:42

I love this movie! Bradley Cooper is just amazing...
posted by

Mandip

on Jul 29, 2010 08:56:47

This movie was fantastic! With so many awesome action scenes, you've got to see it on the big screen if you can. You will not be disappointed!
posted by

mcurri

on Jul 11, 2010 04:17:52

I loved the 80's TV show and I loved the movie! It held onto some of the roots of the original tv show and updated it to current.
posted by

A-Team 80\'s Fan

on Jul 09, 2010 10:58:00

The most amazing movie I've ever saw!! :D I've watched it 3 times already and am going tomorrow to see it again! :D Murdock is so awesome <3 the movie just wouldn't be right w/o him lol. Can't wait to get it on DVD :)
posted by

Alice

on Jul 08, 2010 06:11:40

one time. not boring at all.
posted by

qwerty

on Jun 27, 2010 12:30:30

It is truly an amazing film. One of my favorites.
posted by

Dags Calhoun

on Jun 24, 2010 11:34:58

The best movie of this yera. I was laughting all the time !! must watch ! :)
posted by

niteb

on Jun 22, 2010 08:28:11

Loved it
posted by

Lyssie

on Jun 21, 2010 12:23:44

awsome movie!
posted by

a-team

on Jun 13, 2010 12:23:05

Very nice ! Lot of fun and action ! I saw it today in Warsaw (Poland). 13.06.2010 Best, Raf.
posted by

Raf

on Jun 13, 2010 03:56:08

AMAZING movie!! Cant wait to see it again
posted by

sammy

on Jun 12, 2010 12:48:22

The A-Team is Good Action Summer movie Go Watch It..By E360.blog Where you can Watch all movies online Free FRREEEEEEEEEEEEEEEEEEEEEEEEEE
posted by

Faheem Siyal

on Jun 12, 2010 11:12:19
Has just seen it, and it is awesome!
posted by

Whoo argh!

on Jun 09, 2010 05:50:24
The movie trailers and pictures looks really good... Hope it will be a great film. Bradley Cooper is just HOT... Can't wait for the film... 5/5
posted by

Zaara

on Feb 13, 2010 12:28:13
Really enjoyed the show... hope movie lives up to shows awsomeness.
posted by

K.C.

on Jan 14, 2010 12:58:04

Looks good, can't wait for the filmx...
posted by

Mandip

on Dec 19, 2009 08:15:13

Lw9cT8
posted by

Szfzvoqa

on Jul 15, 2009 09:06:19