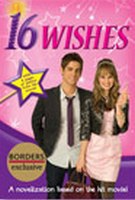 Overview
---
Genre :
Comedy
Release Date :
June 25, 2010 (TV Premiere)
MPAA Rating :
G
Director :
Peter DeLuise
Starring :
Debby Ryan
,
Jean-Luc Bilodeau
, Patrick Gilmore, Cainan Wiebe, Kendall Cross, Anna Mae Routledge, Karissa Tynes, Keenan Tracey, Patricia Isaac

REVIEWS RATE: Critics
N/A

Readers

[Rate It]
Reader's Reviews
---

This is a very good sad movie (at least in the end it is sad)
posted by

Moviegirl7654

on Jun 14, 2013 01:23:29

Nice movie love it! now this this is defintley a diseny movie!
posted by

goodgirl

on Mar 19, 2012 04:11:19

AMAZING !!! BEST DISNEY MOVIE EVER !!! DEBBY RYAN <3
posted by

Cymphony

on Jan 02, 2012 11:35:25

nice..movie...its so great..
posted by

kang

on Feb 16, 2011 12:58:35

I really think that this was a good movie and I like when she started over her day at the very end. I also liked who they picked to be Abby and Jay. I thought it was a really good movie.
posted by

dgdgdgd

on Feb 14, 2011 02:04:41

Wow totally loved it such a great movie for everyone oh yeah!
posted by

goodgirl

on Jan 27, 2011 11:01:07

This was pretty much a remake of the 2004 movie called '13 going on 30' 13 going on 30 was way better done and this one had no plot. I really HATED IT. It's as if they thought 'she turns into an adult. perfect, it's a hit!' no twist no anything! Although i did like Jean-Luc Bilodeau as Jay, he was really HAWT xD
posted by

Me

on Jan 01, 2011 11:20:52

dear 16 wishes thank you so much at the stars thanks to you your firned Amanda
posted by

Amanda colozza

on Dec 16, 2010 04:10:24

i have this on sky i love it its bril can not get it off the tell my mum to get it me its bril xxxx
posted by

jadababe

on Dec 13, 2010 11:57:42

urat
posted by

nici un nume

on Dec 11, 2010 06:56:49
Hloa. Son ncoille 16 deseo para mi que msa caja de 16 velas. Acojo ojro par mi es La fiesta 16 deseo que nas lo la viva Teamo mi Rapa masol quo colego
posted by

Ncoille

on Nov 22, 2010 05:37:55

I LOVE IT!!!WHEN IT WILL START??
posted by

ILOVE16WISHES

on Nov 21, 2010 02:41:01

I LOVE IT!!!!I WISH I HAVE TOO!!!!!
posted by

ILoveDebbyRyan

on Nov 21, 2010 02:35:06
aleena 16 wIshes<3
posted by

ALEENA

on Oct 31, 2010 05:28:17

i like this moviesi hope it release on dvd so that i can bought it.
posted by

joey

on Oct 08, 2010 03:59:23

tis movie waz awsome and does any body know when it comes out on dvd
posted by

banana

on Sep 03, 2010 02:09:49

it's ok
posted by

bball

on Aug 31, 2010 02:46:34

i loved this movie and does any body no when it comes out on dvd
posted by

softball22cs

on Aug 26, 2010 04:11:12

This movie was beyond fantabulous!! fricking amazing!!! I loved it!!!! to be honest... it really really did make me cry a lot during the film!!, HOPE IT RELEASES ON DVD SOON!!
posted by

Jaime

on Jul 30, 2010 09:53:34

I love this movie! When does it come out on DVD?
posted by

Laura

on Jul 19, 2010 08:56:16

so its not out yet awww :( i <3 the movie thou
posted by

jojo

on Jul 09, 2010 04:46:48

the was very unique
posted by

????????????????????

on Jul 02, 2010 04:51:46

Lol 16 wishes was Excellent I was suprised when i watched it the first time i watched its it was a good movie i really luved the movie i really liked it lol
posted by

Abby

on Jun 29, 2010 12:57:12

THE MOVIE WAS SOOOOOOOOO GOOD. I WATCHED IT OVER AND OVER AGAIN
posted by

supersidney

on Jun 28, 2010 08:53:50

I LOVED THIS MOVIE I MUST GET THE SOUNDTRACK AND THE DVD MORE DEBBY RYAN WOWOWOWOWOWOWOW!!!!!!!
posted by

BalieyBunny

on Jun 27, 2010 11:11:41

I LOVED this movie the songs in it were good to i love that Debby and Jean-Luc were seemed so close and almost a real couple i want to see more debby in movies and i hope she picks up in a singing career but i give it 100% IT WAS GREAT
posted by

Brookey6

on Jun 27, 2010 11:09:08

AH-MAZING movie!
posted by

nicklover

on Jun 26, 2010 10:21:01
This movie was AWESOME! I watched it twice and can't wait to see it again!
posted by

Bill

on Jun 26, 2010 07:35:58

I love all the shows debby has been in and this movie will be great!
posted by

Kristen

on Jun 25, 2010 12:48:17