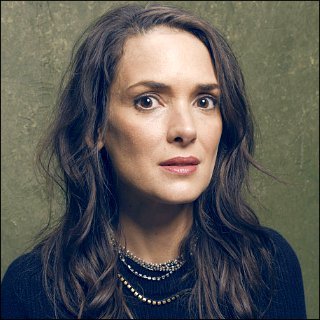 Profile
---
Famous as :
Actress

Birth Name :
Winona Laura Horowitz

Birth Date :
October 29, 1971

Birth Place :
Winona, Minnesota, USA

Claim to fame :
As Lydia in "Beetlejuice" (1988)


Has joined several film projects that later were cancelled in the middle of 2000s, such as "The Widow Claire", "Beyond Friendship", "Embers", and "Oskur Fishman."
Hosted an episode of "Saturday Night Live" (1975) in which Will Ferrell carried his final appearance as the show's regular member in 2002.
Experienced a severe gastroenterological disorder which caused her to give up her role in "Lily and the Secret Planting" (2002).
Injured her arm when doing the scene where she and Adam Sandler are riding bikes down a flight of stairs in "Mr. Deeds" (2002).
Appeared on the cover of W Magazine of June 2002 issue wearing a T-shirt inscribed "Free Winona" which became very popular in the Internet following her arrest for shoplifting in December 2001.
Was selected as the Best-Dressed Celebrity of the Week by Entertainment Weekly for her appearance when receiving a star on the Walk of Fame in 2000.
Refused to star in "Sleepy Hollow" (1999) and also left the cast of "Eulogy" (2004).
Accidentally hurt her knee in the shooting processs of "Girl, Interrupted" (1999).
Established her own music company named Roustabout Studios in 1999.
Joined the audition for the role of Marla Singer in "Fight Club" (1999), but lost it to Helena Bonham Carter.
Her role as Nola in "Celebrity" (1998) was originally intended for Drew Barrymore.
Became the member of Cannes Film Festival's jury by the year 1998.
Gave up the role of Alice Sutton in "Conspiracy Theory" (1997) and Nina Borowski in "The Object of My Affection" (1998) because of scheduling conflicts.
Was included in People Magazine's 50 Most Beautiful People in the World list in 1997.
Gained the 42nd rank in Empire Magazine's list of Top 100 Movie Stars of All Time in 1997.
Agreed to star in "Alien: Resurrection" (1997) without reading the script first.
Actually wanted to quit from Touchstone Pictures' project of "Boys" (1996), originally called "The Girl You Want", after disapproving with the new version of the film's script, but kept joining the cast when the company threatened to sue her.
Became one of the Top Players Under 35 according to People Magazine's list in 1996.
Refuse to play the title character in the 1995 remake of "Sabrina" (1954) because she felt unable to fill Audrey Hepburn's shoes besides considered the role to be marked by sexism.
Participated in the search for abducted Petaluma girl named Polly Klaas in 1993 and also posted a two-hundred-thousand dollar reward for information leading to the child's attacker.
Grabbed the role of Blanca in "The House of the Spirits" (1993) which she previously failed to secure after actress Pernilla August dropped it due to pregnancy.
Her part in "Night on Earth" (1991) was especially written for her by the film's writer/director, Jim Jarmusch.
Was forced to withdraw from her role in "The Godfather: Part III" (1990) because of a respiratory infection brought on by exhaustion as a result of getting overwork.
Took over Emily Lloyd's role in "Mermaids" (1990) in which she played Charlotte Flax, the daughter of Cher's character.
Actually was asked not to star in "Heathers" (1989) by her agent who feared that her career might end if she joined the film.
Has a phobia of water, commonly called aquaphobia, and so had to repeat her under-water scenes in Alien: Resurrection (1997) for many times.
Was in the line to play Janet in a remake of "Three's Company" (1977), but the project was later cancelled.
Joined the Amnesty International at age 12.
Has suffered from insomnia, anticipatory anxiety disorder, and depression since her teens.
Admitted that she was inspired to be a professional actress after watching Sarah Miles' performance in "Ryan's Daughter" (1970).
Her favorite bands include Replacements, Wilco, and Cocteau Twins.
Bought her first house in the Hollywood Hills, but quickly moved, saying she never fitted in.
Has appeared in the commercials for Subaru, Cafe Latte, and Armani while also has participated in Marc Jacobs' clothing campaign in 2003.
Sits on the Board of American Indian College Funds.
Idolizes Billy Wilder and William Holden.
Her most favorite book is J.D. Salinger's "The Catcher in the Rye."
One of her favorite movies is "Grey Gardens" (1975).
Has a bad habit of smoking and smokes a pack of cigarettes every day.
Her paternal grandparents were Jewish immigrants from Russia and Romania who fled the countries during the World War II.
Has appeared in the commercials for Subaru, Cafe Latte, and Armani while also has participated in Marc Jacobs' clothing campaign in 2003.
Is a strong supporter of the Polly Klaas Foundation and even dedicated her film, "Little Women" (1994), to the murdered girl.
Her real last name, Horowitz, was actually the surname of her grandmother, Ethel, while the family name of her father was Tomchin.
Owns some of Hollywood stars' film costumes, like Olivia de Havilland's blouse from "Gone With the Wind" (1939), Leslie Caron's dress from "An American in Paris" (1951), and Russ Tamblyn's jacket from "West Side Story" (1961).
Her godfather was the late psychedelic guru Timothy Leary.
Was featured along with Christina Ricci in Cher's music video of "Shoop Shoop Song."
Has a tattoo on the left side of her forearm.
Her name means first-born daughter in Indian Sioux language.
Was delivered by her mother, Cindy Horowitz, at 11:00 am, CDT.