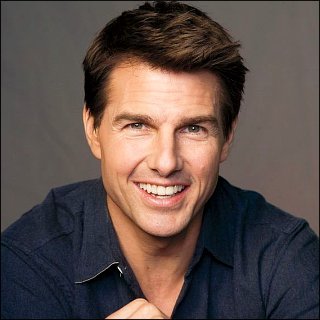 Profile
---
Famous as :
Actor, producer

Birth Name :
Thomas Cruise Mapother IV

Birth Date :
July 03, 1962

Birth Place :
Syracuse, New York, USA

Claim to fame :
As Joel Goodsen in "Risky Business" (1983)


Ranked 6th in Forbes' annual list of Hollywood's Most Overpaid Stars in 2009.
Ranked 7th on Details magazine's annual list of "The Power 40" (November 2008).
Granted the title of the Most Popular Actor by Guinness Book of World Records in September 2007.
Ranked 8th on Forbes magazine's "100 Most Powerful Celebrities" annual list in June 2007 with an estimated income of $31 million.
Ranked 9th in Life & Style's list of "Hollywood's Top 10 Dads" in June 2007.
Placed on the 5th position on US magazine Newsweek's annual list of Most Powerful Actors on the Planet in April 2007.
Ranked 5th in a poll conducted by Star magazine on the 50 Most Annoying People of 2006.
Had his wedding with Katie Holmes chosen as the No. 1 Wedding of the Year in a poll conducted by In Touch magazine in December 2006.
He, along with Katie Holmes, were ranked 10th on Film Threat's annual list of "Frigid 50: The Coldest People in Hollywood" in November 2006.
Has been given his own day of celebration by the Japan Memorial Day Association because of his love of the country and the amount of time he spends with fans there and so becomes the very first Hollywood star to receive the honor (Oct 2006).
Voted to top the list of celebrities that deserve the 14th Annual Ernie Award, honors the worst derogatory public statements (August 2006).
Won his domain namesake, TomCruise.com, from notorious cyber-squatter Jeff Burgar, who uses the sites to redirect visitors to his Celebrity1000.com Website (July 2006).
Ranked the 1st on Forbes magazine's annual list of the World's 100 Most Powerful Stars (June 2006).
Topped an annual survey by Quigley Publishing Co. on Top Moneymaking Stars of 2005, making that his 7th winning in total.
Has been named the 4th Top Newsmaker for 2005 by US TV show Access Hollywood.
He, along with Katie Holmes, was placed at the 2nd rank in America's Star magazine poll of the Tackiest Couple of 2005.
Was on the top spot of FilmThreat.com's "50: The Coldest People In Hollywood 2005" due to the media attention regarding his relationship with Katie Holmes and his being linked to the Church of Scientology.
Voted the 7th Hollywood's Hottest Dad according to a poll held by In Touch magazine in December 2005.
Earned the Diamond Meritorious Award for donating a staggering £2million to the Church of Scientology, making him the biggest ever donor to the controversial organization (Nov 2005).
Was the original choice for the role of Tom Ripley in "The Talented Mr. Ripley" (1999).
Once described as a "baby-faced Christopher Reeve" by Time magazine.
Donated to such charities, as The Ashley Flint Fund, The Tsunami Relief Fund, Themoms.biz Diabetes Fund, Hillary Rodham Clinton's Campaign and The Church of Scientology.
Ranked #1 top money-making star at the box office in Quigley Publications annual poll of movie exhibitors a record six between 1986 and 2001 and was placed #2 in 2004.
In 1988, he earned the distinction of starring in both the year's Oscar winner for Best Picture, "Rain Man" (1988) and the year's Razzie "winner" for Worst Picture "Cocktail" (1988).
Lost the lead role in "The Powers of Matthew Star" (1982) to actor Peter Barton.
By September 2003, he lived with his sister Cass and her three children in Los Angeles.
Won't let his likeness to be used in video games or for action figures.
Has two dogs called Basil and Murray, and a cat called Harvey.
Earned his pilot's license in 1994 in Toronto.
Stopped to help a hit and run victim, who happened to be the aspiring Brazilian actress Heloisa Vinhas, and paid her hospital bills.
In the year of 2000 he and wife Kidman donated to Hillary Rodham Clinton's campaign for a seat in the U.S. Senate representing New York.
In 2000 he restored an older home in the township of Biltmore Forest, a town within the city limits of Asheville North Carolina.
Earned an estimated $70 million for "Mission: Impossible" (1996) and $75 million for "Mission: Impossible II" (2000).
Was considered for the lead role in "The Matrix" (1999).
Likes skydiving, scuba diving, and piloting his Pitts Special S-2B stunt plane.
Does most things left handed, but is right handed when writing.
Awarded the John Huston Award for Artists Rights in 1998.
Voted the 3rd Greatest Movie Star of all time by Entertainment Weekly.
Was ranked #4 in Star TV's Top 10 Box Office Stars of the 1990s (2003).
Ranked #16 in Premiere's 2002 annual Power 100 List and #14 in 2003.
Chosen as People Magazine 1990's Sexiest Man Alive.
Voted Best Dressed Male Movie Star in 1997.
Chosen as one of People magazine's 50 Most Beautiful People in the World (1990, 1991, 1997).
Ranked #3 in Empire (UK) magazine's "The Top 100 Movie Stars of All Time" list (October 1997).
Ranked #41 in Empire magazine's100 Sexiest Stars in film history list (1995).
He is the cousin of actor William Mapother.
Criticized Brooke Shields for relying on psychiatric drugs to overcome her depression for Scientology's declined the use of such medication.
Replaced his publicist, Pat Kingsley, with his sister, Le Anne, who is also a scientologist (2004).
Is a board member of Hubbard's Hollywood Education & Literary Problem (HELP).
Caused controversies among medical community when in a 1992 interview he openly claimed that Scientology had helped him to cure his dyslexia.
Is an obidient scientologist, to which he had converted since 1986.
Won a $10 million defamation suit against porn star Chad Slater, also known as Kyle Bradford, who claimed to have an affair with him during his interview with Actustar Magazine.
He and wife Kidman won their legal suit against 'The Star' and 'London's Express' tabloids for publishing false reports concerning their marriage.
In 1993 he cooperated with Wagner to form Cruise/Wagner Productions.
Was thaught by remarkable acting instructors Sanford Meisner and Phil Gushee during his study at the prestigious Neighborhood Playhouse.
Was a paperboy for the Louisville Courier-Journal when he briefly attended St. Xavier High School in Louisville, Kentucky.
Before becoming a famous actor he had ever worked as as a bus boy, porter and a table-cleaner.
Got the injury which forced him to leave his Glen Ridge High School's wrestling team and decided to land an acting career.
Enrolled in a seminary to become a priest when he was 14, but dropped out after one year.
His parents divorced when he was only 12.