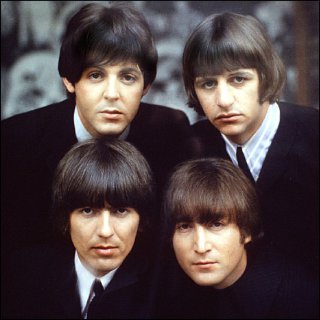 Profile
---
Famous as :
Pop music group

Birth Date :
1960

Birth Place :
Liverpool, Merseyside, UK

Claim to fame :
Single "I Want To Hold Your Hand" (1963)


Biography
---
by AceShowbiz.com
---
Using numerous words to describe The Beatles is probably still not sufficient enough, since they are obviously a great phenomenon in music industry and happen to be the greatest pop/rock band the world ever has. The Beatles has become the most successful music group with over 1.1 billion copies sold worldwide, making them rule as the best selling music artist of all-time in the universe based on RIAA's issue. It is generally known that they are the most influential band which inspires many other musicians, such as Neil Sedaka, Alice Cooper, Extreme, 10,000 Maniacs, Aerosmith, Cream, Michael Nesmith, and many more. Therefore, their being as a pop/rock icon is undeniable and worth to be deserved.

The Beatles was formed in Liverpool, England, along with members: John Winston Lennon (1940-1980) as the band's rhythm guitarist, Richard Starkey or Ringo Starr (born July 7, 1940) as the drummer, James Paul McCartney (born June 18, 1942) as the bassist, and George Harrison (1943-2001) as the guitarist. The establishment of The Beatles could be traced from a band named "The Quarry Men" formed by John Lennon in the summer of 1956. On July 6, 1957, after their performance at St. Peter's Parish Church, Woolton, John met Paul McCartney and later asked him to join the band. Paul's friend, George Harrison, came in as the new member of the band in the following year. These three young people then added two more personnel, Stuart Sutcliffe as bassist and Randolph Peter Best as drummer in 1960. After replacing names for several times, the band finally came up with the name "The Beatles."

With their manager Allan Wiliams, The Beatles started performing on stage in Hamburg, Germany, for about 4 months before George was deported to England for being too young to work in nightclubs. The rest of the members shortly thereafter followed going back to England, except Stuart, who decided to quit the band and remain in Hamburg. They continued to perform at The Cavern Club in Liverpool where they met Brian Epstein for the first time. The band then signed a formal agreement to make Epstein as their manager, replacing Allan Williams, in December 1961. On January 1, 1962, the band went to audition at Decca Records, but unfortunately they were unsuccessful. Apparently, that was a blessing in disguise because their audition tapes were listened by George Martin of EMI/Parlophone Records who later offered them ...