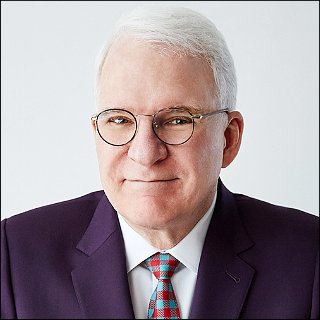 Profile
---
Famous as :
Comedian
Birth Name :
Stephen Glenn Martin
Birth Date :
August 14, 1945
Birth Place :
Waco, Texas, USA
Claim to fame :
Album "
A Wild and Crazy Guy
" (1978)

Is a fan of TV feature of "Monty Python's Flying Circus" (1969) and later offered himself to narrate "Parrot Sketch Not Included: Twenty Years of Monty Python" (1989).
Played banjo in the music video of Earl Scruggs and Friends' "Foggy Mountain Breakdown."
Teamed up with cartoonist Roz Chast to write his own children's book titled "The Alphabet From A To Y With Bonus Letter Z!" released in October 2007.
Wrote "The Underpants," the English adaptation of Carl Sterheim's 1911 play, "Die Hose." It was later premiered Off-Broadway at the Classic Stage Company on April 4, 2002.
Conducted his own rope work and played harmonica in "ĄThree Amigos!" (1986).
Appeared as an extra in Bruce Lee's movie, "Jing wu men" (1972), playing a policeman who shoots Lee at the film's very end.
Is a strong supporter of The Huntington Library in San Marino, California. He has loaned some paintings, helped the museum to obtain a John Gregory's sculpture, and sponsored Eastman Johnson's exhibition there.
Was included in the Top 20 Greatest Comedy Acts Ever list in 2005 based on a poll toward comedians and comedy insiders to find The Comedian's Comedian.
Was bestowed a Disney Legend Award in 2005 while also hosted "Disneyland: The First 50 Magical Years" (2005) along with Donald Duck.
Was honored the 8th annual Prize for American Mark Twain Humor by the Kennedy Center for the Performing Arts in October 2005.
Earned the 50th rank in People Magazine's list of 50 Most Beautiful People in 2003.
Held a special exhibition of his art collection at the gallery of Las Vegas' Bellagio Hotel in 2000.
Was considered for the role of Bill Harford in "Eyes Wide Shut" (1999) by its director, Stanley Kubrick, who was impressed with his work in "The Jerk" (1979).
Won an Outer Critics Circle John Gassner Playwriting Award for "Picasso at the Lapin Agile" in 1996.
Received an honor from the American Film Institute's Third Decade Council at the U.S. Comedy Arts Festival in 1996.
Was named Man of the Year in 1988 by Harvard University's Hasty Pudding Theatricals.
Has been on the 6th rank of Comedy Central's 100 Greatest Stand-Ups of All Time.
Was chosen the Most Talented by his classmates at Garden Grove High School.
Was forced to apply lipstick on his hose when playing Rudolph the Red-Nosed Reindeer in his second-grade play and later walked home hiding under his mother's coat.
Performed onstage along with Robin Williams in the Lincoln Center Theater production of "Waiting for Godot."
Has collaborated with Eugene Levy in his four films: "Father of the Bride" (1991), "Father of the Bride Part II" (1995), "Bringing Down the House" (2003) and "Cheaper by the Dozen 2" (2005).
Took the horn section of B.B. King's music video of "In The Midnight Hour."
Has held the records concerning "Saturday Night Live" (1975) for hosting, guest appearances, and hosting in a single season while also is the only person to have hosted a season premiere, a season finale, and a Christmas show in SNL.
Is the Five Timers Club's member of "Saturday Night Live" (1975) for he had hosted the show for 13 times.
Is a trustee of the Los Angeles Museum of Art and an avid art collector whose personal collections included the works of Pablo Picasso, Helen Frankenthaler, Georgia O'Keeffe, Willem de Kooning, and many more.
Was delivered by his mother at 5:54 am-CWT.