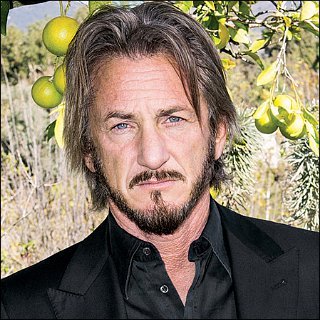 Profile
---
Famous as :
Actor

Birth Name :
Sean Justin Penn

Birth Date :
August 17, 1960

Birth Place :
Santa Monica, California, USA

Claim to fame :
As Jeff Spicoli in "Fast Times at Ridgemont High" (1982)


His brother Chris was found dead because of enlarged heart in his Santa Monica condominium on January 24, 2006.
Partially owns a Parisian restaurant-bar named Man Ray alongside Johnny Depp and Mick Hucknall.
Had a lawsuit and counter suit against Steve Bing when he left the set of "Why Men Shouldn't Marry" (2006) that Bing produced.
Visited Iran in June 2005 under the disguise of a journalist on an assignment for the San Francisco Chronicle and even attended Friday prayer ceremony at Tehran University.
Directed Jewel's music video, "You Were Meant For Me," in 1997.
Was tricked by his co-star, Woody Harrelson, during a break from filming "The Thin Red Line" (1998) in Australia and got his revenge by leaving Harrelson alone in the middle of the night after he tricked him to get out from their car.
Is a close friend and drinking buddy of non-proliferation expert Joseph Cirincione as reported by The Capitol Hill newspaper, Roll Call, on October 19, 2005.
Rescued 40 people during his visit to New Orleans, Louisiana to aid Hurricane Katrina victims in September 2005 and also brought a shotgun for self-protection during his time there.
His limited-edition 1987 Buick Grand National along with two firearms in the trunk were stolen in Berkeley, California in April 2003.
Took the executive producer seat, in association with the Helicon Theatre Company, in a Los Angeles stage production of Graham Reid's "Remembrance" by 1997.
Was placed in number 76 of The Top 100 Movie Stars of All Time list compiled by Empire Magazine U.K edition in October 1997.
Lost his home in Malibu because of fire happened in November 1993.
"The Indian Runner" (1991), the first film he wrote and directed, was inspired by a Bruce Springsteen's song.
Starred together with his former wife, Madonna, in "Shanghai Surprise" (1986).
Starred alongside his brother, Chris Penn and his mother, Eileen Ryan in "At Close Range" (1986).
His marriage ceremony with Madonna in August 1985 was attended by Andy Warhol.
Was chosen as one of 12 Promising New Actors of 1984 according to John Willis' Screen World Vol. 36.
Relocated to Marin County, an area located north of San Francisco, for he did not want to raise his children in Hollywood.
Established a production company named Clyde Is Hungry Productions.
Is the best friend of Emilio Estevez, Charlie Sheen and Rob Lowe.
Named his son Hopper Jack after his friends' name, Dennis Hopper and Jack Nicholson.
Has the same birthday with Robert De Niro.
His name inspired an indie-band in The Netherlands to call their group as Seanpenn.
His grandparents established a Jewish deli in New York.
Is Aimee Mann's brother-in-law.