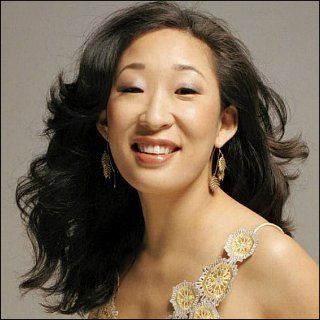 Profile
---
Famous as :
Actress

Birth Date :
July 20, 1971

Birth Place :
Nepean, Ontario, Canada

Claim to fame :
As Rita Wu in TV series "Arli$$" (1996-2002)


Biography
---
by AceShowbiz.com
---
things turned contrastingly different by the time she managed to be included in the regular cast of HBO's sitcom "Arli$$" in 1996 since it was through this show that the actress finally made her name in the country, thanks to her bright performance as Arliss Michaels' underpaid assistant, Rita Wu.

With this growing popularity, the road sure became more velvety for Sandra to undergo afterwards and riding high on the success, she tirelessly took time to move further in the industry, appearing in a number of movies like "Bean" (1997), "Permanent Midnight" (1998), plus "The Princess Diaries" (2001) among others. The fact that "Arli$$" met its end in 2002 apparently did not slow down her career, otherwise enabled her to put full focus on film feature as she smoothly went on to take parts in "Big Fat Liar" (2002), "Under the Tuscan Sun" (2003), and notably "Sideways" (2004). Not only could act under the direction of her husband, Alexander Payne, whom she married to on January 1, 2003, in the latter flick, the star also received a greater degree of prominence when she gloriously shared the title of Outstanding Performance by a Cast in a Motion Picture at Screen Actors ...
Guild Awards held in 2005.

Seemingly unstoppable from then on, Sandra continued to glow under the spotlight in the same year after she returned to the small screen to show up in ABC's "Grey's Anatomy" which later directed her to nab an Emmy nomination in Outstanding Supporting Actress in a Drama Series category by September, but this accomplishment sadly did not run in line with her marriage as she by that time had already filed for a divorce from Payne. Nevertheless, the gifted star kept moving forward consistently to acquire more accolades in 2006, even taking double honors of Golden Globes and Actor Award through that medical series. The same year, in the meantime, also spotted her taking roles in mystery thriller "The Night Listener" and dramatic "3 Needles" before audience could notice her again in "Blindness" (2008), Miramax Films' film adaptation of the Jose Saramago acclaimed novel.

Back to her private life, Sandra ultimately had her divorce to Payne finalized on October 18, 2007, more than two years after she filed the legal papers on the matter. By this time, she already found a new love in Andrew Featherston, a percussionist in indie band The Hereafter.


Biography was written and copyrighted © by AceShowbiz.com.