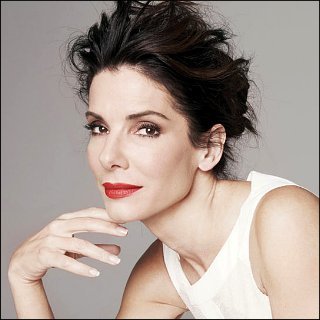 Profile
---
Famous as :
Actress

Birth Name :
Sandra Annette Bullock

Birth Date :
July 26, 1964

Birth Place :
Arlington, Virginia, USA

Claim to fame :
As Annie Porter in "Speed" (1994)


Biography
---
by AceShowbiz.com
---
during the year 1993, one most noticeable was the science fiction-action "Demolition Man," also starring notable co-stars Sylvester Stallone and Wesley Snipes. It was the film's producer Joel Silver that introduced her to his friend and colleague, director Jan De Bont who latter gave Bullock the female lead in the 1994 blockbuster "Speed" alongside Keanu Reeves that appeared to bring a breakthrough to her acting career. The film went success, won an Academy Award for Best Sound and Best Sound Effects. So where did the ride to stardom begin for the actress, making her a high-level movie star in the late 1990s, such predicate that proved to get her more film roles, including that in the 1995 romantic comedy "While You Were Sleeping," where she was billed to replace Demi Moore, and in the John Grisham's 1996 best-seller "A Time to Kill," for which she began earning a seven digit salary.

Unfortunately, Bullock's acting career experienced a little slump afterwards with her appearances in numbers of not so successful films, naming some were Richard Attenborough's "In Love and War" (1996), the romantic comedy "Two If by Sea" (1996), "A Farewell to Arms" (1996), and the sequel to "Speed," "Speed 2: ...
Cruise Control" (1997). Began her own production company, Fortis Films, her first project was the 1998 "Hope Floats" which wasn't too success, yet helped Bullock to secure another part in "Practical Magic" (1998), co-starred with Nicole Kidman as sisters who use witchcraft to solve their romantic problems. Her part in the flick, indeed, led her to another huge hit when she was billed to provide the voice of Miriam in the 1998 animated biblical saga "The Prince of Egypt." Next she starred in the romantic comedy "Forces of Nature" (1999), opposite Ben Affleck and "28 Days" (2000) in which she plays a recovering alcoholic. Proven good in impressing moviegoers with her starring role, Bullock starred in again another romantic comedy "Miss Congeniality" (2000), being in the same scene with Benjamin Bratt.

After the latest movie, came the 2002 thriller "Murder by Numbers" where she and Ben Chaplin were homicide detectives chasing two smart and murderous young students. Went back to her romantic comedy roots, Bullock went on starring with Hugh Grant in the 2002 "Two Weeks Notice" which saw her portraying the role of a smart but neurotic lawyer. It did a hit, after which the well-known actress reprised her ...