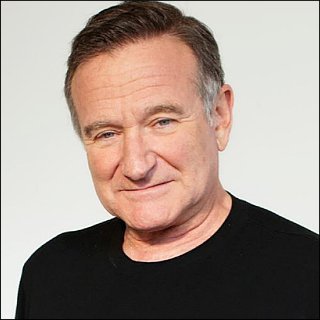 Profile
---
Famous as :
Actor, comedian

Birth Name :
Robin McLaurin Williams

Birth Date :
July 21, 1951

Birth Place :
Chicago, Illinois, USA

Claim to fame :
As Adrian Cronauer in "Good Morning, Vietnam" (1987)


Performed in the opening of the San Francisco Comedy Competition held in 1976.
Appeared as the Surprise Guest at the 2006 Nickelodeon Kids' Choice Awards.
Conducted live performance at Consumer Electronics Show during Google keynote on January 6, 2006.
Sued a man named Michael Clayton in 2005 for misrepresenting himself as the real Robin Williams to Star Tribune and Missouri's Fire Department so that it led to a permanent injunction preventing Clayton from ever performing as him.
Dedicated the Cecil B. DeMille Award he was presented of at the 2005 Golden Globe Awards to the late Christopher Reeve.
Was portrayed by Chris Diamantopoulos in TV movie biopic feature of Behind the Camera: The Unauthorized Story of Mork & Mindy (2005).
Performed "Blame Canada" at the 2000 Academy Awards to fill the place left by Mary Kay Bergman who had committed suicide a few months before the awards show.
Was included in Entertainment Weekly's list of 25 Best Actors in 1998.
Sent a little Oscar replica with a note saying "Thank you for making me famous in Germany" to his standard German dubbing voice, Peer Augustinski, after winning an Oscar in 1998 for his role in Good Will Hunting (1997).
Was originally billed to play Drew Barrymore's father in "Home Fries" (1998), but quitted the project days before the shooting of his scenes.
Went onstage together with Steve Martin in the 1988 theatrical production of "Waiting For Godot" at Lincoln Center.
Was named Funniest Man Alive in 1997 also the 50th Greatest Movie Star of All Time by Entertainment Weekly.
Earned the 63rd in Empire Magazine's list of The Top 100 Movie Stars of All Time in 1997 and the 7th in Star TV's Top 10 Box Office Stars of the 1990s by 2003.
Wrote the introductory note of Gary Larson's book, "The Far Side: Gallery 4" (1993).
Was considered for the role of Joe Miller in "Philadelphia" (1993) and the Riddler in "Batman Forever" (1995).
Most of his dialogue as Genie in Disney's "Aladdin" (1992) was ad-libbed as admitted in the DVD commentary of the feature.
Took over the role of Peter Banning/Peter Pan in "Hook" (1991) from Kevin Kline while turned down the lead part in Oliver Stone's "Nixon" (1995).
Was addicted to cocaine during the late 1970s and early 1980s, but finally managed to quit taking the drugs after the death of his close friend, John Belushi, and the birth of his son.
Helped Christopher Reeve paying his medical bills during his final years following his horse riding accident.
Is the co-owner of San Francisco's Rubicon Restaurant along with Robert De Niro and Francis Ford Coppola.
Had carried out stand-up comedies in some San Francisco's clubs like Holy City Zoo, Intersection, The Great American Music Hall and The Boardinghouse, also at The Comedy Store, Improvisation and The Ice House in L.A.
Provided the voice of the Timekeeper in the American version of Walt Disney World Resort's Circle-Vision 360° feature of "The Timekeeper."
Is a knighted member of the peerage for the West Kingdom of the Society for Creative Anachronism.
Enjoys playing online video games like "Warcraft" or Half-Life" and cycling, even collects hundreds of bicycle.
Considers Jonathan Winters as his idol.
Is a huge fan of Tour de France cycle race and rugby union, particularly the All Blacks.
Named his daughter Zelda after Nintendo's "The Legend of Zelda" series.
Is a big fan of "Monty Python's Flying Circus" (1969) and Japanese animation series "Neon Genesis Evangelion", even used his personal collection of the toy figures from the series in "One Hour Photo" (2002).
Actually was slated to make a guest appearance in an episode of "Star Trek: The Next Generation" entitled "A Matter of Time", but had to cancel it because of scheduling conflict and so was replaced by Matt Frewer.
Is a good friend of director Chris Columbus, Whoopi Goldberg, Lance Armstrong, Steve Martin, and the late Christopher Reeve who became his roommate during his college years.
Donated his blood for many times after 9/11 incident in his effort to help the victims of the attacks.
Is one of the performers in United Service Organization and has performed for U.S. troops stationed in Iraq for 3 years and those in Afghanistan.
Is an active supporter of the U.S Democratic Party.
Played soccer during his study at Claremont Men's College.
Received a Faisal Award at his high school for being the "Most Likely To Not Succeed."
Developed his skills of talking in different voices during his childhood to entertain himself since he had difficulty finding any friends to play with due to his condition of being a very overweight child.
Was born on the same date and month as Josh Hartnett was.
Is of Welsh and Scottish ancestry from his father's side.