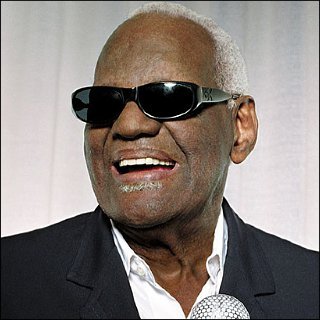 Profile
---
Famous as :
Soul singer, pianist

Birth Name :
Ray Charles Robinson

Birth Date :
September 23, 1930

Birth Place :
Albany, Georgia, USA

Claim to fame :
Single "I Got a Woman" (1954)


Ranked 8th on Forbes' 6th annual Top-Earning Dead Celebrities list conducted in the year of 2006.
In February 2005, he was awarded the Congressional Gold Medal, presented by Legislation in the House of Representatives.
Ray once perfomed at Ronald Reagan's 2nd inauguration (1985) and Bill Clinton's 1st (1993).
His autobiography was named "Brother Ray."
He found Ray Charles Foundation for the hearing impaired.
Ray tested actor Jammie Foxx to play a line of Thelonious Monk Jazz before he acted in "Ray" (2004).
He drunk half a mug of black coffee and Bols gin, and two sugars every day since he got clean.
Ray prefered to be paid in single dollar bills.
He neither used a cane nor dog, but was navigated by the sound of his hard-soled shoes instead.
Ray can ride a motorcycle, drive a car, and fly a plane though he is blind.
He's able to play piano, clarinet, saxophone, trumpet and organ since attending School for Deaf and Blind in Florida.
He was listed as Rolling Stone's 10th Greatest Rock 'n' Roll Artist of All Time.
His 2003 concert was anulled due to his hip replacement surgery.
Ray was addicted to heroin for nearly 20 years and got clean in 1965.
He earned Polar Music Prize, the Royal Swedish Academy of Music Award, in 1998.
In December 1999, Wilberforce University awarded him an honorary doctor of humane letters.
Frank Sinatra named him "the Genius of Soul."
His interest over jazz-music occurred since high school.
He made a cameo appearance in "Ray."
The screenplay of movie "Ray" was translated into Braille so that he could read it.
His biggest fear was to lose his hearing.
Ray believed that blind people do not have to pay any tax.
B'nai Brith named him "Man of the Year" in 1976.
Ray has inspired many blind musicians to achieve their musical career.
His feature film titled "Ray" (2004) was finished at the time of his death.
He drove without assistance on a car commercial.
In 1994, Ray received the Helen Keller Personal Achievement Award from the American Foundation for the Blind.
Ray stopped writing his own music around the late 60s.
A Laboratory For Auditory Research was established in Ray name for his contributions to Ear International.
Ma Beck was the one who gave Ray support over his brother and mother's death.
Ray did series of Diet Pepsi commercials which debuted in 1990.