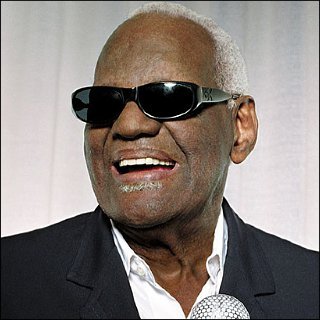 Profile
---
Famous as :
Soul singer, pianist

Birth Name :
Ray Charles Robinson

Birth Date :
September 23, 1930

Birth Place :
Albany, Georgia, USA

Claim to fame :
Single "I Got a Woman" (1954)


Biography
---
by AceShowbiz.com
---
The world of music consists of various genres, yet Ray Charles proves himself as the one who is able to convert them all into a soulful tunes despite his physical weakness. As Thomas Thompson had written of him: "He has drawn from each of these musical streams and made a river which he alone can navigate." That opinion appeared to be true, as Ray possessed such a great talent within his soul to skillfully explore beyond musical boundaries, developing a new form of black pop music known as "soul." Therefore, it is undeniably appropriate to regard Ray Charles in the way of Frank Sinatra's praise, honoring him as "the only genius in the business." He was indeed an exceptional musician whose composition has touched both sides of white and black American communities, bringing a unity and harmony in the tunes he created. Probably it was his immense love for music that enabled him to arrange such great and terrific tunes, as he once said: "Music was one of my parts...like my blood. It was a force already with me when I arrived on the scene. It was a necessity for me, like food or water." It is unquestionable that in this fast-changing world, he remains constant as a music legend, giving a large merit in shaping the sound of rhythm and blues as well as being a pioneering pianist and soul singer. He has become a prominent role model in music industry who has drawn a lot of followers ever since, such as James Brown, "Everly Brothers", Billy Joel, James Ingram, "The Animals", and many more.

Born on September 23, 1930, in Albany, Georgia, as the first son, he was named Ray Charles Robinson by his parents, Baily and Aretha Robinson. During that time, Robinson family was among the people who lived in poverty as America was experiencing the Great Depression. Moving to Greenville, Florida, when Ray was still an infant, did not bring any improvement, even it got worse for the father soon abandoned the family. Despite the terrible condition, Ray enjoyed his early childhood, living with his loving mother and younger brother, George Robinson, while deeply attracted to music since he was merely 3 years old, as he admitted: "Whenever I heard a note, I was already trying to involve myself with it." However, his happiness was interrupted by the tragic death of his dear brother in 1935. ...