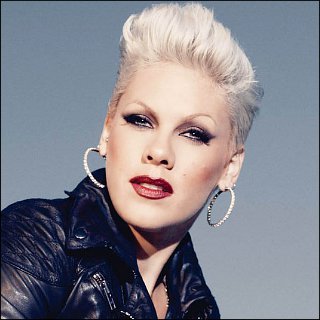 Profile
---
Famous as :
Pop/Rock singer
Birth Name :
Alecia Beth Moore
Birth Date :
September 08, 1979
Birth Place :
Doylestown, Pennsylvania, USA
Claim to fame :
Album "
Can't Take Me Home
" (2000)

Parodied celebrities such as Lindsay Lohan, Jessica Simpson and Paris Hilton on 'Stupid Girls' music video.
Teamed up with PETA in January 2008 to unveil a Times Square billboard spotlighting the horror of the horse-drawn carriage industry in New York.
Her favorite colors included green and pink.
Her song of "Most Girls" was considered to be the I Will Survive" for the third millennium by Teen People Magazine.
Issued an apology to Australians for a campaign to boycott Australian wool industry, organized by People for the Ethical Treatment of Animals (PETA), she launched during her concert in Paris on Dec 19, 2006 (January 2007).
Her wedding to Carey Hart is chosen the 8th Wedding of the Year in a poll conducted by In Touch magazine in December 2006.
Won the Best Pop Video category for "Stupid Girls" at the 23rd annual MTV Video Music Awards, held August 31st, 2006 at Radio City Music Hall in New York City.
Ranked the 8th "Most Searched Celebrity" on VH1 by June 2006.
Is quoted in the 'Life Style Extra' magazine to have claimed that she is, in fact, trisexual (June 2006).
The music video of "Stupid Girls" (2006) made spoofs over Lindsay Lohan, Jessica Simpson, Paris Hilton, Mary-Kate Olsen, and Ashley Olsen.
Was chosen as one of Choice USA's Top 30 Under 30 Activists for reproductive freedom in 2004.
"Feel Good Time" music video was selected as Best Video from a Film at MTV Video Music Awards Japan in 2004.
Was featured in Pepsi's Gladiator ads alongside Enrique Iglesias, Beyonce Knowles, and Britney Spears in 2004.
Became the nominee of Best Female Pop Vocal Performance category at the 2003 Grammy Awards.
Took part at Motorola's fifth annual talk-of-the-town holiday bash benefiting Toys for Tots in 2003.
Her hair was named Worst Female Hair Color in 2003.
"M!ssundaztood" got nominated for the category of Favorite Pop/Rock Album at American Music Awards also that of Best Pop Vocal Album at Grammy Awards by 2003.
Received a nomination of Favorite Pop/Rock Female Artist at American Music Awards and of Best International Female Artist at Brit Awards in 2003. She won the latter one.
Was named Best Pop Artist, International at MTV Video Music Awards Latin America held in 2002 and Best American Pop/Rock Female Artist at World Music Awards in 2003.
Earned the 36th rank in Stuff magazine's list of 102 Sexiest Women in the World by year 2002.
The music video of "Get the Party Started" got nominated for the categories of Best Pop Video, Best Female Video, and Best Dance Video at the 2002 MTV Video Music Awards. It won the former two categories.
"Get the Party Started" was named the Favorite Song at Nickelodeon Kids' Choice Awards, Best Video at Q Awards, and Best Song at MTV Europe Music Awards in 2002.
Reached the 57th rank on VH1's 100 Sexiest Artists in 2002.
"Lady Marmalade" music video was nominated in the categories of Video of the Year, Best Video from a Film, Best Dance Video, Best Pop Video, Best Choreography, and Best Art Direction at the 2001 MTV VMA. It won the former two categories.
The collaborative music video of "Lady Marmalade" won the categories of Favorite Video and Is It Hot In Her Or Is It Just My Video at VH1 Awards while being nominated Best Song at MTV Europe Music Awards in 2001.
Has been nominated for Favorite Female Singer category at Nickelodeon Kids' Choice Awards for two years consecutively that were in 2001 and 2002. She won at the latter event.
Took home a Blockbuster Entertainment Award for winning the Favorite Female - New Artist category in 2001.
Used to be a gymnast before her singing career took off.
Is a good friend of Avril Lavigne also Lisa Marie Presley and the second cousin of Mandy Moore.
Gained #12 in the UK Music Hall of Fame of the 21st century.
Also tattooed her inner left thigh with words "Mr. Pink" or "Pink, her hand with a red star that lies between her index and thumb, and the back of her neck with a barcode for her album "M!ssundaztood."
Has a tattoo of a guardian angel on her shoulder, a sentence written "what goes around comes around" on her wrist, a Chinese/Japanese symbol on her left ankle and an anklet on the right one.
Her stage names is sometimes written as P!nk.
Has been managed by Craig Logan of Bros.
Had worked at a gas station, McDonald's, Wendy's, Pizza Hut, and McDonald's.