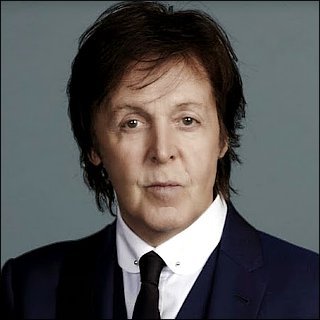 Profile
---
Famous as :
Singer

Birth Name :
James Paul McCartney

Birth Date :
June 18, 1942

Birth Place :
Liverpool, England

Claim to fame :
One of The Beatles


Was included in the men's short list of People for the Ethical Treatment of Animals (PETA)'s annual World's Sexiest Vegetarian Celebrities list in June 2008.
The August 1998 issue of the British rock magazine "Q," named McCartney as the Richest Rock Star in The World with an estimated fortune of over 500 miilion pound sterling.
Being featured in PETA's new "I Am a Vegetarian" ad campaign (March 2008).
Ranked 3rd in an annual list of Britain's Richest Musical Figures released April 27, 2007 by the Sunday Times with a fortune estimated at £725 million.
Is the only Beatle to have ever been nominated for an Academy Award in his own right.
11 years after The Beatles' breakup, he and Ringo Starr played on George Harrison's "All Those Years Ago," which is about the death of his partner, John Lennon.
Had his divorce from wife Heather Mills listed as the No. 6 Most Expensive Celebrity Divorce according to Forbes.com, possibly costs more than $60 million (April 2007).
Chosen Man of the Year at GQ magazine annual ceremony held in 2006 in London.
Has his name listed on Forbes list of "Hollywood's 10 Most Generous Entertainers" (May 12, 2006).
Secured the 4th position in the Rolling Stone's 5th-annual list of Biggest Moneymakers, taking in an estimated $56 million.
His wife Linda McCartney died of breast cancer in his ranch in Tucson, Arizona.
Owns a ranch in Tucson, Arizona and a Hollywood Hills manor property which he bought from Courtney Love and Ellen DeGeneres.
His two favorite singers were Little Richard and Elvis Presley.
Is the only Beatle to graduate from Britain's equivalent of high-school.
His first guitar was a Zenith archtop f-hole acoustic, which he got at the Rushworth and Drapers Music Store in Liverpool when he was 14, as a gift from his father.
Owns the copyrights to Buddy Holly's song catalogue, and several other compositions, including "Ramblin' Wreck From Georgia Tech."
Owns the double bass once belonged to Elvis Presley's bassist Bill Black.
Appears in the Guinness Book of Records as The Fastest Ticket Sales in History, when 20,000 tickets for 2 shows in Sydney, Australia in 1993 sold out in only 8 minutes.
Appears in the Guinness Book of Records for The Largest Stadium Audience in History when 184,000 paid to see his performance at Maracană Stadium in Rio de Janeiro in April 1990.
Appears in the Guinness Book of Records as The Most Successful Popular-Music Composer and Recording Artist ever with sales of 100 million singles and 60 gold discs.
Appears in the Guinness Book of Records for his song "Yesterday" listed as The Most Covered Song in History with over 3000 existing versions.
Is a knight of the British Empire.
Becoming the richest rockstar in the world for the year of 2004, with a personal fortune of £762 million.
Is the first rock musician ever to receive Chile's Order of Merit for "services to music, peace, and human understanding."
Received an honorary Doctorate of Music from the University of Sussex.
More than 70 of his paintings from past 20 years were on view at Walker Art Gallery, Liverpool, England from May to August 2002.
Won prize for his church drawing at age 11.
Made an honorary detective by NY Police for the benefit concert he contributed for 9/11 victims, April 2002.
Named one of E!'s "Top 20 Entertainers of 2001."
Only wrote 27 songs in direct collaboration for "Lennon & McCartney" compositions.
Several of his solo albums, including those with Wings, featured cover photos by his wife Linda.
Played bass on the Band Aid 20 re-recording of "Do They Know It's Christmas?" [November 2004].
In 1971, he produced an instrumental version of the album "Ram" he recorded with wife Linda titled "Thrillington."
Has his song "Blackbird" covered by Marillion for their live album "Unplugged at the Walls" (1998).
Met Linda Eastman in a London nightclub called the Bag O'Nails, married her at the Marylebone Register Office, and has 4 children with her.
Contributes "Calico Skies" to album "Warchild Hope," released April 21, 2003.
Had an appearance in a 1995 episode of "The Simpsons" entitled "Lisa The Vegetarian."
Performed "Let It Be" at Live Aid in 1985.
Has a lyric sheet to his song "Yesterday" featured on the front cover of the Marillion album "Script for a Jester's Tear" (1983).
Wrote song "When I'm 64" for his father on his 64th birthday.
Has 29 number one singles on the American charts with the Beatles, Paul McCartney & Wings, and as a solo artist as well as for one duet with Michael Jackson.
Was arrested in Tokyo, Japan, for marijuana possession (1980) and fined $200 in 1973 for growing marijuana on his Scotland farm.
Wrote number of songs about his former bandmate John Lennon, including "Dear Boy," "Too Many People," "Dear Friend," "Let Me Roll It," and "Here Today."
Played all the instruments on two of his solo albums, "McCartney" (1970) and "McCartney II" (1980).
Wrote several songs for Jane Asher's older brother, Peter, of the singing duo 'Peter and Gordon', including hit "World Without Love" and "Woman."
Appeared as himself in Tracey Ullman's music video for "They Don't Know."
Sang backup on Donovan's "Mellow Yellow" and played bass on some of his album tracks.
Writes his first song "I Lost My Little Girl" when he was just 14 years old.
Was born at Walton Hospital, located in northern Liverpool near his teenage home, at 2:00pm-BDST.