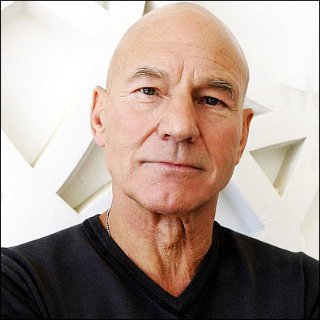 Profile
---
Famous as :
Actor

Birth Name :
Patrick Hewes Stewart

Birth Date :
July 13, 1940

Birth Place :
Mirfield, Yorkshire, England

Claim to fame :
As Captain Jean-Luc Picard in TV series "Star Trek: The Next Generation" (1987-1994)


Has collaborated with Kelsey Grammer for 3 times up to 2006 in the productions of: "Star Trek: The Next Generation" (1987-1994), "Frasier" in 2003, and "X-Men: The Last Stand" (2006).
Became the Chancellor of University of Huddersfield in 2003.
Appeared in Marks & Spencer's commercial for its Christmas 2003 edition.
Was honored the Order of the British Empire by January 2001.
His introducton for "The Nightmare Before Christmas" (1993) was cut and changed by Tim Burton, but the original recording can still be heard in Danny Elfman's soundtrack for the movie.
Was voted Most Bodacious Male on TV by U.S TV Guide in 1993.
Has been the one who opened the Barbican Arts Centre in 1984.
Has been the Honorary Associate Artist of the Royal Shakespeare Company.
Likes reading, drinking hot Oriental tea, collecting masks and WWI posters, also playing Tetris on his Nintendo Gameboy.
Is an active supporter of Amnesty International and The Whale Conservation Institute.
Once underwent a job as a furniture salesman and a reporter for the Dewsbury and District Reporter.
Is known to be a big fan of F1 and has joined several celebrity car races.
One of his favorite TV series is "Red Dwarf."
Is one of the only tree actors who appeared in the pilots of both TV series of "Star Trek: The Next Generation" and "Star Trek: Deep Space Nine."
His name has been used as a name of an Amnesty International's human rights scholarship.
Is a huge fan of Beavis and Butthead also Warren Ellis' graphic novel, "Transmetropolitan."
Has kept a cat named Bella after finding it on the set of "Star Trek: The Next Generation."
Is a big supporter of Huddersfield Town Football Club of the Football League.
Is a good friend of Brian Blessed and Brent Spiner who became his best man at his wedding to Wendy Neuss.
Was so sure he was going to be fired from "Star Trek: The Next Generation" during the first season of the series so that he kept his bags unpack for 6 weeks.
Is one of the founding directors of A Centre for Theatre Education and Research (ACTER).