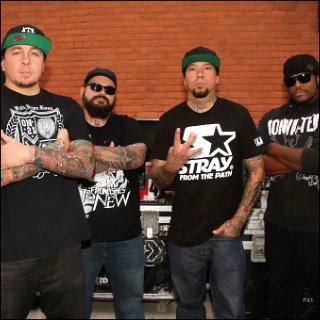 Profile
---
Famous as :
Christian metal band
Birth Date :
1992
Birth Place :
San Diego, California, USA
Claim to fame :
Single "
Alive
" from album "Satellite" (2001)

Has contributed a number of songs to the film soundtracks of "Any Given Sunday" (1999), "Ready to Rumble" (2000), "The Scorpion King" (2002), and "The Matrix Reloaded" (2003) among others.
Gained the title of HM Magazine's Favorite Band for three consecutive years that were from 2001 to 2003 while also being labeled Best Live Album for two times in 2001 and 2002.
Was nominated in Contemporary Inspirational Music category at American Music Awards held in 2003.
Won an Echo Award for being the International Alternative Group of the Year at the 2003 event.
Their music video of "Alive" was nominated for 5 categories at the 2002 MTV Video Music Awards along with the Best Rock Video nomination for "Youth of the Nation."
Earned Outstanding Hard Rock / Heavy Metal Album nomination at the 2002 California Music Awards for "Satellite."
Was chosen as the second Favorite Artist while their website was named Best Band Website based on the Alternative Press Online's poll in 2001.
Has garnered 6 San Diego Music Awards which they obtained each in 1999, 2001, also 2002 and three in 2000 aside from two other nominations in 2002 and 2003.
Their first major studio album, "The Fundamental Elements of Southtown" (1999), contained an instrumental hidden track called "Tambura" which began several minutes after the last tune, "Outkast."
Has collected 4 nominations of Dove Awards for Group of The Year, Artist of the Year, Modern Rock/Alternative Recorded Song of the Year, and Rock Recorded Song of the Year.
Their EP, "The Warriors EP", was only made for 30,000 copies in print and distributed by Tooth&Nail Records.
Landed their first performance as an opening act for a band named Face to Face in front of 85 people at The Dungeon.
The song "Portrait" was initially intended to be given the title "Christ."
Wrote "Youth of the Nation" after the shooting incident happened at Santana High School as a heartfelt plea to stop violence on students.
Their song, "Bullet the Blue Sky", was originally written by U2 for the album "The Joshua Tree."
Owns a clothing line named Zion Noiz.
Is sponsored by the Tribal Clothing Company, so the personnel have often been spotted wearing its products.
Its logo, which looks like to be three interlocking rings, is an Irish Celtic Symbol that was taken from King James Bible and represents the Holy Trinity.
Their fans are called Warrior.
The name Payable On Death was suggested by Wuv's girlfriend, who later became his wife, and taken from a banking term that refers to someone being the benefactor of what people leave behind when they die.