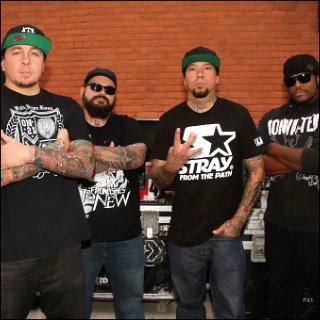 Profile
---
Famous as :
Christian metal band
Birth Date :
1992
Birth Place :
San Diego, California, USA
Claim to fame :
Single "
Alive
" from album "Satellite" (2001)

Biography
---
by AceShowbiz.com
---
Smoothly launched their fourth full-length album under Atlantic, "Testify", on January 24, 2006 as the follow-up of their "The Warriors EP, Volume 2", P.O.D. seems very prepared to mark their comeback on the major music scene as they have already settled on conducting their European promo tour in mid February and U.S. tour by the end of March. January itself has really turned out to be a great month for this rapcore band if looking on their continuous appearances on TV, beginning with an excellent performance in singing unprecedented 5 tunes on MTV's TRL to the NBC's popular programs of "Tonight Show with Jay Leno" plus "Last Call with Carson Daly" scheduled to be aired on the last two days of January. Set eyes to headline The Rolling Stones' concert series slated to be held on February 11 in Aspen, Colorado, the band apparently has no difficulty to continue their well-maintained path in music industry then.

Originated in the tough urban environment of San Diego, California, the band's very beginning could be tracked years ago when two high school students named Noah "Wuv" Bernardo, Jr. and Marcos Curiel discovered that they shared similar musical interests and influences not long after being introduced to each other by a friend. With Marcos covering guitar also vocals and Wuv playing the drums, the twosome started jamming together to later display their skills casually at some house parties in the neighborhood for a mere fun. As time went by, however, both of them became really serious in developing their group and thus decided to add more personnel, asking Wuv's cousin Paul "Sonny" Sandoval (born on May 16, 1974 in San Ysidro, California), who at that time was still a member of a hip-hop group called Unlicensed Product, to be the band's vocalist.

Finally took shape in 1992 under the name P.O.D., which stands for Payable on Death, with the inclusion of Gabriel "Gabe" Portillo as the bassist, these optimistic guys began to work together in building the way to local music scene through some gigs around San Diego area to then perform as Green Day's opening act on a show held for New Year's Eve 1993. Gained initial notice with their first work, "Snuff the Punk", which was released in 1994 under their own label, Rescue Records, the band satisfyingly grew their status when they managed to land the same stints for the likes ...