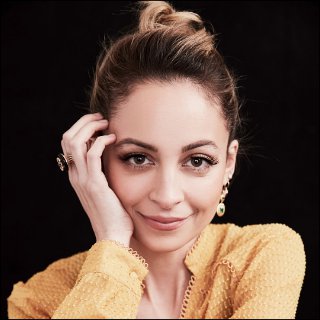 Profile
---
Famous as :
Actress

Birth Name :
Nicole Camilla Escovedo

Birth Date :
September 21, 1981

Birth Place :
Berkeley, California, USA

Claim to fame :
Star of the 2003 reality series "The Simple Life"


Having her own line of footwear called "House of Harlow 1960".
Put the vintage Halston dress she wore to her engagement party to former lover, DJ Adam Goldstein, on sale at the chic consignment store Fisch for The Hip in New York (June 2008).
Debuted her daughter, Harlow Winter Kate Madden, on the cover of People Magazine, on newsstands February 29, 2008.
She and fiance Joel Madden had on December 3, 2007 thrown a surprise baby shower for 100 expectant and new moms at the Los Angeles Free Clinic in Hollywood, where they handed out more than $200,000 worth of gifts.
Ranked 5th in Life & Style's "Hot Hair" poll of Tinseltown's leading ladies in August 2007.
She and fiance Joel Madden have started their own children's charity, called Richie Madden Children's Foundation, by November 2007.
Has in March 2007 been diagnosed with "hypoglycemia" or low blood sugar, following lots of health related issues.
Was the 3rd Best Dressed Woman according to a poll conducted by UK Glamour Magazine in January 2007.
Named the World's Worst-Dressed Celeb by People for the Ethical Treatment of Animals (PETA) in November 2006.
Ranked 2nd on a list of the Worst Celebrity Legs, conducted in November 2006 by Lambrini which was searching for the sexiest legs for a new fashion campaign with Pretty Polly.
Has been admitted to a medical facility to determine why she is unable to gain weight (Oct, 2006).
Was one of the celebrities invited to Beyonce Knowles' 25th birthday party held on August 31, 2006.
Is trained in cello, violin, piano, and figure skating.
Has the tattoo of a ballerina, a tiara, a Rosary, a cross, a bow with the name "Richie" below it, a shooting star on her left wrist and the word "virgin" on her right one, plus the tattoo of one wing on each side of her shoulder blade.
Michael Jackson is her godfather.
Was number one in US Weekly Magazine's list of Fashion Winners of early September 2005 edition.
Co-hosted the 19th Annual Soul Train Music Awards, held in 2005.
Has become the model of Bongo jeans in 2005.
Posted a $10,000 bail when she was arrested for heroin possession and driving with a suspended license in February 2003.
Entered the University of Arizona at the same time with professional basketball player Luke Walton and reality TV star Kourtney Kardashian.
Has six pet rats which all are named based on the characters of "Beverly Hills 90210" (1990-2000).
Has two dogs called Honeychild which is a shih tzu, and Foxy Cleopatra, which is a Pomeranian and named based on Beyonce Knowles' character in "Austin Powers in Goldmember" (2002).
Her adoptive father, Lionel Richie, composed the song "Ballerina Girl" for her.
Visited the childern of Camp Heartland, a camp for kids with HIV/AIDS, in 2005.
Played the piano on her musical debut through a live performance on ABC's "The View" (1997) in February 2005.
Has been a member of a fledgling rock band called "Darling" along with Josie Maran, and society sisters named Soleil Alberti and Sofia Alberti.
Was offered thus accepted the opportunity to star in "The Simple Life" (2003) with her best friend Paris Hilton after Paris' sister, Nicky Hilton, refused to join in.
Began drinking alcohol and taking drugs at the age of 13.
One of her friends is singer Fefe Dobson.
Is the niece of Sheila E., a talented pop percussionist and drummer of 1980s.