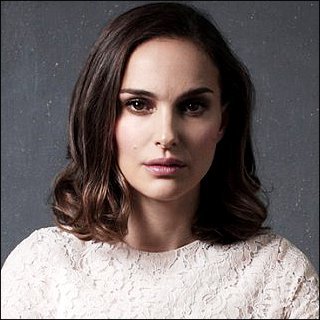 Profile
---
Famous as :
Actress

Birth Name :
Natalie Hershlag

Birth Date :
June 09, 1981

Birth Place :
Jerusalem, Israel

Claim to fame :
As Padme Amidala in "Star Wars Episode I: The Phantom of Menace" (1999)


Being chosen as Maxim Magazine's No. 1 Sexiest Vegetarian in March 2008.
Would like to be a doctor like her father.
Speaks five languages; Hebrew, English, French, German, and Japanese.
Often plays characters who are smart, mature, and grown up for their age.
Announced a new line of vegan collection of shoes in conjunction with Te Casan, called "The Natalie Portman Collection", with 5 per cent of all the profits will be going to charity (December 2007).
Voted 2nd in a poll of 100 Sexiest Movie Stars compiled by Empire Magazine in December 2007.
Topped a list for the Best Dressed Ladies of 2007 compiled by InStyle Magazine.
Included as one of the runners-up in PETA's annual online poll on the "World's Sexiest Vegetarian" announced on May 22, 2006.
Compiled a mixtape called 'Big Change: Songs for FINCA' (2007) that features songs from her favorite artists such as The Shins and Norah Jones.
Is the "Ambassador of Hope" of Foundation for International Community Assistance (FINCA), an organization that provides small loans to people in developing countries.
Has a terrible stage fright and afraid to miss her lines in live theater performances.
Came in 9th place in the online poll held by online magazine AskMen.com on the 2006 "Most Desirable Women".
Ranked 6th in Teen People's list of Power-Wielding Players in Young Hollywood (August 2005).
Included in Teen People's list of the "25 Hottest Stars Under 25" (May 2005).
Had a CD done for charity named after her, "Love: A Tribute to Natalie Portman."
Was a member of The World Patrol Kids dance troupe.
Is often called the "new Audrey Hepburn."
Doesn't read her fan mail.
Refuses to have a sex-scene.
Never smokes, drinks, or takes any drugs.
Once appeared at an AIDS charity event.
Collects purse, small bags and eyebrow tweezing.
Wearing the iconic black column dress worn by the late Audrey Hepburn in the 1961's "Breakfast at Tiffany's", graces the cover and inside pages of the November 2006 issue of Harper's Bazaar.
Ranked 4th on the poll of the Greatest Ever Hollywood Starlets, carried out by Yahoo! Entertainment (September 2006).
Fashion designer Zac Posen claimed Natalie as his inspiration.
A lip gloss by Stila is named after her.
Since high school, she always gets straight-A.
She is good friends with Jake Gyllenhaal, Bryce Dallas Howard and Maroon 5's personnel.
She can do actress Lily Tomlin impression.
Her name is used as a song title by bands, TeamSleep and Ozma.
She admires Lily Tomlin, Diane Keaton and Ben Kingsley.
She was born on her mother's 29th birthday.