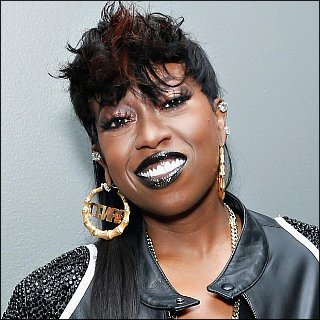 Profile
---
Famous as :
R&B singer, rapper, songwriter, record producer

Birth Name :
Melissa Arnette Elliott

Birth Date :
July 01, 1971

Birth Place :
Portsmouth, Virginia, USA

Claim to fame :
Single "Da Rain (Supa Dupa Fly)" from album "Supa Dupa Fly" (1997)


Biography
---
by AceShowbiz.com
---
Cooperated with The Chrysler Group to support the launching of its Jeep Commander, Missy Elliott once again has confirmed her status as one of the most celebrated female artists in the world. This merely was an addition to what the African-American rapper had accomplished during the year of 2005, which among others include six MTV Music Award nominations as well as the glorious success of her sixth album, "The Cookbook" (2005). The latter even has soared to the 2nd rank at both Billboard's Top 200 and Top R&B/Hip-Hop Albums Charts while sold more than 170,000 copies after one week being released. Conclusively, it had been a distinct proof that Elliott still maintains her skillful touch to create an exceptional work of music.

Born as Melissa Arnette Elliott on July 1, 1971 in Portsmouth, Virginia, U.S., little Missy experienced a gloomy childhood for she grew up with an abusive father. During this time, she often witnessed his ill treatment toward her mother, leading her to seek solace by imagining herself as a performer. Unable to bear her husband's torment, the mother finally decided to leave and took her only daughter along, raising the little child on her own. Getting inspired by her mother's courage and independence to start anew, Missy determined to materialize her dream of becoming a formidable artist. Together with LaShawn Shellman, Chonita Coleman and Radiah Scott, she established an R&B group called Sista in the late 1980s.

After asking her friend named Timothy Mosley to be the group's producer, she and the other personnel succeeded to draw the attention of DeVante Swing. A music producer as well as a member of Jodeci, DeVante then signed the group under his label, Swing Mob Records, in 1991. However, the company later came to its collapse before Sista could even produce an album. Refusing to give up, Missy kept moving forward, accompanied by Mosley who had changed his name to Timbaland. They afterwards teamed up as an independent producer and songwriter, creating hit singles for various artists from 1995 to 1997. Among those, their most significant work was on Aaliyah's second album entitled "One in a Million" (1996) which earned huge success, boosting Alliyah's career.

During this particular period, she used her time to make collaborations with other artists, including Gina Thompson. Her peculiar rap in Thompson's "The Things You Do," enhanced by her flourishing status as a capable songwriter, had ...