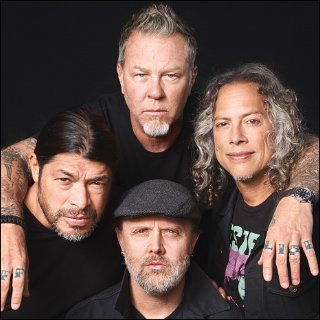 Profile
---
Famous as :
Heavy metal band
Birth Date :
1981
Birth Place :
Los Angeles, California, USA
Claim to fame :
Album "
Metallica
" (1991)

Biography
---
by AceShowbiz.com
---
Metallica is the most consistently innovative metal band of the late 80s and 90s. This music group was formed in 1981 in California, USA, by Lars Ulrich (b. 26 December 1963, Copenhagen, Denmark; drums) and James Alan Hetfield (b. 3 August 1963, USA; guitar/vocals) after each separately advertised for fellow musicians in the classified section of American publication The Recycler. Set about in 1981 when the teen Lars put an advertisement in a paper searching for like-minded musicians to create a band, James immediately responded to the ad, and shortly the two began lived their music with Lars played drumes and made musical suggestions, while James covered all guitar parts (rhythm, lead, and bass,) as well as singing. Both of them got the name Metallica when Lars was helping San Francisco-area metal promoter Ron Quintana to pick out a name for a new magazine to promote metal and the NWOBHM (New Wave Of British Heavy Metal) bands. Quintana came up with a suggestion "Metallica," but Lars quickly suggested another and decided to use that name for the band he and James Hetfield had just started.

Early in 1982, the now-becoming Metallica recorded "Hit the Lights" for the first Metal Massacre compilation. In the sake of the work, guitarist Lloyd Grant was brought in to do the lead guitar solos on the track but was never a full member of the band. Longing for a full-time lead guitarist, Lars posted an advertisement in the local newspapers and here came Dave Mustaine, a guitarist from the band Panic who seemed interested and upon arrival started a sound check. Surprisingly, Lars and James were so impressed with Dave's soundcheck that they immediately asked him to join. Few months after Dave joining Metallica, the band recorded a full demo "No Life Till Leather" which quickly drew attention on the underground tape trading circuit. From this point on, joined also the trio bassist Cliff Burton, who exited from his band Trauma in exchange for the other members of Metallica relocating to the San Francisco area. This replacement was the beginning of all the band great music work. Approvingly, both San Fransisco and New York gave Metallica their biggest success early on as they were accepted by Elektra.

After the sign, Metallica released their 1st album titled "Kill 'Em All" that prominently featuring the heavy vocals and rhythm guitar of James Hetfield. This album indeed signals ...