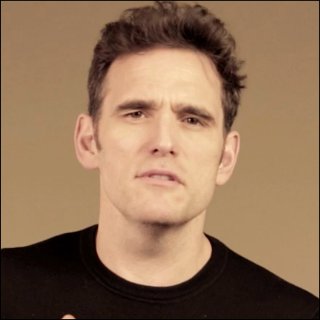 Profile
---
Famous as :
Actor

Birth Name :
Matthew Raymond Dillon

Birth Date :
February 18, 1964

Birth Place :
New Rochelle, New York, USA

Claim to fame :
As Melvin Moody in "My Bodyguard" (1980)


Biography
---
by AceShowbiz.com
---
Successfully made great transition from teen idol to fine adult thespian to keep shining for over 2 decades of his career, Matt Dillon indeed has scored a rare accomplishment many other actors of his generation can hardly match. Hailed from a tight-knit middle class Irish-American Catholic family, he was born Matthew Raymond Dillon on February 18, 1964 in New Rochelle, New York as the second son of Mary Ellen and Paul Dillon, a former Union Camp's sales manager turned portrait painter. Growing up in the neighborhood town of Mamaroneck, the star actually started his foray in professional acting by pure chance during his years at Larchmont's Hommocks School when he bumped into talent scouts sent by casting director Vic Ramos after cutting his math class. Barely 14 years old at that time, the teen wonderfully managed to leave such deep impression upon being called for an interview that Ramos without any hesitation then willingly gave him the third billing in Jonathan Kaplan's "Over the Edge" (1979).

Despite the movie's limited theatrical release, Matt's performance delightfully earned large attention from both critics and audience alike which subsequently led him to two more film appearances by the following year through "Little Darlings" and "My Bodyguard." While the former only saw him as a mere object of teenage female desire, the latter, on the other hand, really showed off his excellent acting knack in portraying vicious high-school bully Melvin Moody and so brought him to vast recognition almost immediately. Unmistakably deemed to be a bright teen star afterwards, the status satisfyingly was retained for the next few years with electrifying performances in other teenage-oriented flicks like "Tex" (1982), "The Outsiders" (1983), "Rumble Fish" (1983), also "The Flamingo Kid' (1984).

As his looks got matured upon entering the mid-'80s, Matt wisely changed direction to broader, more mature parts and smoothly materialized his aim in his projects for the rest of the era, most notably that of Gus Van Sant's 1989 effort, "Drugstore Cowboy", in which he stunned critics with his portrayal of a narcotics-driven father-figure robbing pharmacies for their prescription drugs. Continuing the effort to establish himself as an adult actor throughout the nineties, this striking guy persistently went on to compile an excellent resume containing of wide variety of roles in movies of different genre, like those seen in "A Kiss Before Dying" (1991), "To Die For" (1995), "In & Out" (1997), and ...