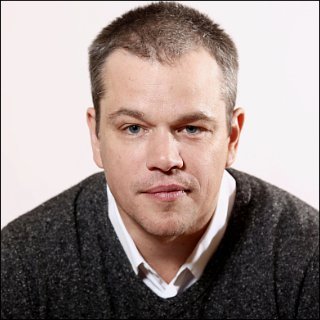 Profile
---
Famous as :
Actor

Birth Name :
Matthew Paige Damon

Birth Date :
October 08, 1970

Birth Place :
Boston, Massachusetts, USA

Claim to fame :
As Will Hunting in "Good Will Hunting" (1997)


He and fellow celebrity stars, including Julianne Moore, Mariska Hargitay, Jeri Ryan, and Elisabeth Rohm made a donation of used baby items to Johnson's Celebrity Hand-Me-Down Auction in April 2008.
Was included in People magazine's list of the 50 Most Beautiful People in The World in 1998.
Named The Sexiest Hero by People magazine on December 20, 2007.
Is a member of GreenDimes.com, an organization that attempts to halt the tons of junk mail delivered to American homes each day (April 2007).
Dropped his role in Darren Aronofsky's "The Fighter" (2009), which originally would reunite him with Mark Wahlberg.
Used to sing "Afternoon Delight" for his baby nephew when he cried.
Voted 9th in the poll conducted by In Touch Weekly on the Sexiest Guys of Summer 2007.
Crowned as People's "Sexiest Man Alive" in 2007, thus making him the 22nd recipient of the magazine's sexy title.
Admitted that his agent once accidentally sent him and Ben Affleck to an audition for The Mickey Mouse Club.
Alongside Brad Pitt and George Clooney, his "Ocean's" co-stars, had their hand and foot prints left in cement outside Grauman's Chinese Theatre on June 5, 2007.
Helped launching H2OAfrica, a nonprofit organization dedicated to publicize the water crisis in Africa and to raise funds to develop clean, sustainable sources of water (Oct 2006).
Listed as one of the Top 5 of the Best Autographers in Hollywood by Autograph Collector's 14th annual survey held in May 2006.
Actually appeared in "The Sum of All Fears" (2002) as a cameo, but his part as a waiter was later cut from the final editing.
Starred in some movies which title contains some part of his character's name, like "Good Will Hunting" (1997), "Saving Private Ryan" (1998), "The Talented Mr. Ripley" (1999), "Gerry" (2002), "The Bourne Identity" (2002) & "The Brothers Grimm" (2005).
Came to the premiere of "The Brothers Grimm" (2005) with longtime best friend, Ben Affleck.
Chosen as one of the 25 Most Eligible Bachelors by E! by June 2002.
Declined the offer to be the lead role in "The Majestic" (2001) and only contributed his voice in the film instead.
Learned to play piano while also lost 30 pounds to make a convincing performance in "The Talented Mr. Ripley" (1999).
Sold the script of "Good Will Hunting" along with Ben to Miramax for $500,000 after trying to offer it to Castle Rock for $600,000.
Became a cameo in some of Ben Affleck's movies, among others "Glory Daze" (1996), "Chasing Amy" (1996), "Jay and Silent Bob Strike Back" (2001), and "Jersey Girl" (2004).
One of his neighbors during his life in Cambridge was Howard Zinn whose seminal work, "A People's History of the United States," was referred by him as Will in "Good Will Hunting" (1997).
Used to play Dungeons & Dragons, video baseball, and short-stop in Little League, also watching Godzilla and Kung Fu double features on Saturdays and following the adventures of "The Super Friends" and "The X-Men" with Ben Affleck when they were kids.
Claimed that he had ended his love relationship with Minnie Driver in "The Oprah Winfrey Show" (1986) without any attempts to tell the actress in person about the breaking up before.
Was asked by Hugh Jackman to join him in a lap-dance for Barbara Walters, who was about to retire, during Jackman's last performance in the stage production of "The Boy From Oz."
Has Finnish blood which is inherited from his grandfather.
His marionette appeared in "Team America: World Police" (2004).
Underwent a training thus dropped 22 pounds to have six pack abdominal muscles for his role in "The Bourne Supremacy" (2004).
Established a bowling league in Berlin during the filming of "The Bourne Supremacy" (2004).
Underwent three months of training to learn kickboxing, martial arts and weapon use for his role in "The Bourne Identity" (2002).
Lost during the first day of the 1998 World Series of Poker in Las Vegas after playing in $10,000 buy-in Texas Hold 'Em tournament.
His big break, "Good Will Hunting" (1997), was originally intended to be a thriller.
Polished his script of "Good Will Hunting" with the help of William Goldman, a veteran screenwriter, and Rob Reiner before brought it to Miramax.
Took a job as a bartender in Knoxville, Tennessee for free and asked one of the customers to be his dialect instructor in order to display a perfect Southern accent for his role in "The Rainmaker" (1997).
Lost 40 pounds in order to make a convincing portrayal of an army medic in "Courage Under Fire" (1996).
Was defeated by Edward Norton during an audition for a role in "Primal Fear" (1996).
Joined the audition for a role in "To Die For" (1995), but lost it to Joaquin Phoenix.
Refused to take the lead role, which later was given to Leonardo DiCaprio, in "The Quick and the Dead" (1995).
Worked as extra on "Field of Dreams" (1989) together with Ben Affleck. During the production process, he went to Boston's Fenway Park plucking its grass as mementos for his father.
Gave Ben Affleck and his wife, Jennifer Garner, a check of an unspecified amount as the wedding gift which also turned out to be the payment for Ben of losing to the bet on who would get married first.
Stops to smoke with the help of a hypnotist in L.A.
Was among the artists who opposed the invasion of Iraq.
Supports the Democratic party.