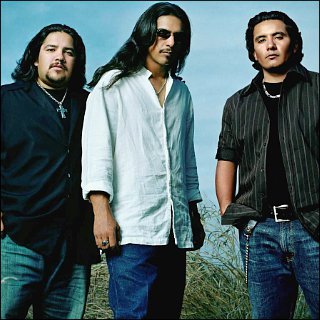 Profile
---
Famous as :
Tex-Mex rock group
Birth Date :
1996
Birth Place :
Texas
Claim to fame :
Album "
Los Lonely Boys
" (2004)

Biography
---
by AceShowbiz.com
---
Garnering sweet outcome with their second album "Sacred" which fabulously sold about 67,000 copies in its first week of release, Los Lonely Boys keeps striving smooth to firmly pave down their path in music industry for sure if looking on their hectic schedule throughout 2006. Follows the long list of tour dates that has been neatly arranged for them to undergo, the band persistently continues to hold live shows for the rest of August around venues in Arizona, California, and Nevada before teaming up with Carlos Santana to entertain their fans in cities like Holmdel, Atlantic City, plus Tampa for the latter half of September up to date 29. Hard to be missed are their November gigs in Chicago on date 4 then Nashville by the next 4 days where they set to perform at The Riviera Theater and Ryman Auditorium, respectively.

A trio that presents an unusual tune of Tex-Mex rock style mixed with elements of blues, soul, country, and Tejano music, Los Lonely Boys was formed by three brothers named Henry Garza (born May 14, 1978), JoJo Garza (born June 4, 1980), and Ringo Garza Jr. (born November 1981). All of them are the sons of Ringo Garza Sr. who is a musician involved in a band named The Falcones which played cojunto music in southern Texas during the 1970s and 1980s, so it was not surprising to then see the boys quickly follow their father's trail at a young age. By the time they entered their teens, the threesome had already become the backing band of Garza Sr. when he decided to go solo following the disbanding of his group, touring all over the roadhouses also cantinas of the state.

Noticed their glowing talent, Garza Sr. subsequently brought his three sons to Nashville, Tennessee to look a chance for them to flourish in music scene, but things gravely did not run well there so that they all finally headed back to Texas not long after. Afterwards worked their own way separated from their father with Henry on guitar also harmonica, JoJo on bass, and Ringo on drums while vocals by all, these guys gradually managed to built a certain degree of reputation in the music scene through continuous live acts. One of their performances even caught the attention of veteran musician Willie Nelson who later invited the trio to play at Farm Fair and most importantly, helped ...