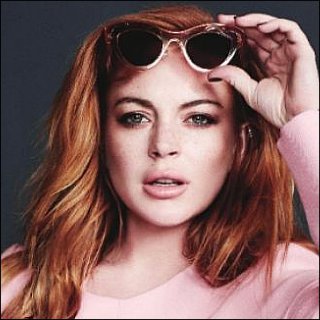 Profile
---
Famous as :
Actress, singer
Birth Name :
Lindsay Dee Lohan
Birth Date :
July 02, 1986
Birth Place :
New York City, New York, USA
Claim to fame :
As Anna Coleman in "
Freaky Friday
" (2003)

Fronted her first official ad campaign in the U.K., posing in second-hand clothes for the 2008 Visa Swap fashion event.
Had her mug shot used in a full-page black-and-white ad by the American Beverage Institute to rail against a petition by activists to try and get a breathalyzer installed in every car in America (May 2008).
Included in People magazine's annual "50 Most Beautiful People" list by April 2005.
Refused to play the character Regina in "Mean Girls" (2004) because she felt fans would perceive her as arrogant.
Has a good relationship with Paris Hilton and Ashlee Simpson.
Is allergic to blueberries.
Was originally offered the role of Penny in "Inspector Gadget" (1999) but turned it down.
Recreated Marilyn Monroe's "The Last Sitting" for New York Magazine's February 25, 2008 issue.
Is of Italian and Irish descent.
She is a 'straight A' student at school and is skillful at math and science.
Was included in Mr. Blackwell's 46th, 47th, and 48th annual Worst Dressed Women Lists.
Chosen the 2nd in a poll conducted by In Touch Weekly Magazine of Hollywood's Hottest Redheads (September 2007).
Had her waxwork, on display in Madame Tussauds Wax Museum in NYC's Times Square, dressed in a prison chic following her second DUI arrest in a month on July 24, 2007.
Ranked 3rd on Forbes Magazine's Hollywood's Top Earning Stars Under 21 list in 2007, made $6 million during the year 2006.
Voted the 6th World's Most Eligible Bachelorette by FHM Magazine in February 2007.
Ranked 2nd in a poll conducted by Star Magazine on the 50 Most Annoying People of 2006.
Chosen 6th on the poll of the Most Wanted Star Hairstyles conducted by In Touch Magazine in November 2006.
Was crowned Coolest Party Girl at Life & Style Magazine's 2nd Stylemaker's Awards, held on September 14, 2006 in Los Angeles.
Said in an interview in the September 2006 issue of Elle Magazine that she is willing to go to Iraq with Sen. Hillary Rodham Clinton and entertain American troops there.
She has becoming the youngest person to host an MTV Movie Award show, and also the first host to win an award, which she got for "Freaky Friday" (2003) (June 5, 2004).
Had her name included in Yahoo's annual list of Popular Search Terms three years in succession, 2005, 2006, and 2007.
Included in Maxim Magazine's annual Hot 100 list of the Most Successful Women of the Year in Film, Television, Music, Sports and Fashion, ranked 4th in 2005 and 3rd the following year.
Had her orange Hermes handbag returned, with no property was taken, after it was stolen at London's Heathrow airport on September 7, 2006.
Gave up her role in both "A Woman of No Importance" (2008) and "The Edge of Love" (2008).
Made the list of "The Sexiest Stars Under The Sun" compiled by Life & Style Magazine in May 2007 for being the Hottest in Hollywood.
Had her 21st birthday party sponsored by Svedka Vodka despite the fact that she had problems with drink in the past and becoming a member of Alcohol Anonymous (AA).
Accidentally revealed a little too much of her breast at the 5th annual Ten Fashion Show held in Hollywood on Feb 28, 2006.
Named Hollywood's Style Queen of the Year by American magazine Us Weekly in April 2007.
Chosen to be the face of designer Jill Stuart's fall collection (April 2007).
Voted the 2nd Unhealthy Celeb according to a poll by healthy living brand Lime in March 2007.
Has worked as a model for Abercrombie & Fitch Kids (A&F Kids) and Calvin Klein Kids.
Caught lip syncing on Good Morning America earlier in 2005, which fact can be found on several download and media sites.
Released a statement through her representative January 17, 2007, confirming the fact that she has checked herself into rehab, the posh Wonderland Center in Los Angeles.
Named the Trainwreck Of The Year in US men's magazine Blender's 2006 Readers' Poll.
Went under the knife on January 4, 2007 to have surgery to remove her appendix.
Voted the No. 6 Best Dressed Female in a poll conducted by American publication Life & Style in December 2006.
Has been tapped to model Miuccia Prada's Miu Miu line's Spring 2007 ads.
Ranked 4th on Film Threat's annual list of "Frigid 50: The Coldest People in Hollywood" in November 2006.
Was rushed to St. Vincent's Hospital in New York after slipping and falling at the city's Milk Studios during a New York Fashion Week event on Sept 15th, 2006.
Has been voted Celebrity with Biggest Ego in the poll conducted by Teen People in October 2005.
Included in Teen People's list of the "25 Hottest Stars Under 25" (May 2005).
Got overheated and dehydrated while filming "Georgia Rule" (2007) and was taken to an L.A. hospital early morning on July 26th, 2006.
Signed a $2 million worth deal to become the spokesperson for America's best-selling acne treatment Proactiv Solution.
Was given the Kabbalah name "Rose" by famous pop singer and Kabbalah devotee Madonna and so her name becomes "Lindsay Lohan Rose" (July 2006).
Marked her 20th birthday with a huge party by the beach in Malibu which cost nearly £55,000.
Revealed in the new issue of Harper's Bazaar, on newsstands June 20, 2006 that her fantasy isn't to start her own clothing line but to open an exclusive Paris boutique filled with designer clothing.
Was reported to have spent more than $1 million on clothes and accessories last year, because of which she has to seek help from a hypnotist to end her penchant to spend money (June 2006).
Has become the youngest ever waxwork at the famed Madame Tussaud's museum in New York City (April 2006).
Once was treated at a London hospital after cutting her leg in an accident at Bryan Adams' home (February, 2006).
Is the number one actress in Teen People's list of Power-Wielding Players in Young Hollywood, earning over 7 million dollar per movie (August, 2005).
Has been one of the 11 young stars under age 25 to be mentioned one of World's 100 Most Powerful Celebrities by Forbes Magazine in January 2006.
She was 2003's 5th Hottest Teen Female Star.
Has been one of the participants of the annual Red Dress Collection held by The National Heart, Lung and Blood Institute in February 2006.
Made a tattoo inscribed the word of Breathe on her wrist by January 2006 to remind her of the asthma attack she has had earlier.
Experienced an asthma attack that caused her to be taken to a hospital (January 2nd, 2006).
Early in 2006, in a tell-all interview with Vanity Fair, Lohan revealed that she once tried drugs and battled bulimia, but later denied that she experienced the eating disorder a week later.
Her most favorite food is sushi.
Lohan enjoys her spare time swimming, playing basketball, shopping, singing, reading, writing, gymnastics, collecting Beanie Babies, roller-blading, and playing with her siblings Aliana, Dakota and Michael Lohan.
She's been hospitalized for two times in less than a year. The 1st was last year while filming "Herbie: Fully Loaded" (2005), while the 2nd was after working 17 hours on her movie "Just My Luck" (2005).
She confessed on "Last Call with Carson Daly" (2002) that she fell asleep during the premiere of "The Parent Trap" (1998).
At age 7, she got to dress as garbage ("Things You Find on the Bottom of the Subway") for a Halloween skit on "Late Show with David Letterman" (1993).
She is involved in charity projects, such as "The Carol M. Baldwin Breast Cancer Foundation," "Save the Children," "The United Cerebral Palsy Association," and her own charity organization "Dream Come True."