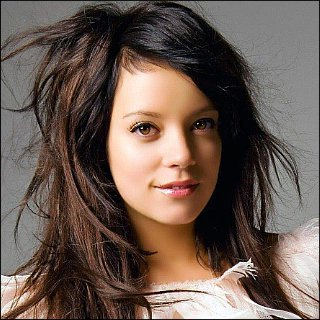 Profile
---
Famous as :
Pop singer
Birth Name :
Lily Rose Beatrice Allen
Birth Date :
May 02, 1985
Birth Place :
Hammersmith, London, UK
Claim to fame :
Single "
Smile
" (2006)

Due to her thick Cockney accent, her music was used as part of an exhibition at the British Library tracing the history of Cockney English.
The window of her new BMW was accidentally smashed by one of the paparazzi who was following her to get her pics as she was on her way out of the Groucho Club in London, England on March 3, 2008.
Has her own brand of clothing, launched through New Look fashion chain, available in stores by May 9, 2007. The collection, features dresses in sizes 6 to 18, high-heel shoes, patterned sneakers, and flowered jewelry, priced from $10 to $100.
Having her figure recreated as a character in role-playing computer game The Sims, while also reworked her hit song "Smile" for the "Sims 2 Seasons" (March 2007).
"Alfie", the final track of album "Alright, Still", was about her brother, Alfie Owen-Allen.
Was voted the third Coolest Person of the Year in NME's Cool list of 2006.
Showed up as a guest on the BBC2 comedy pop quiz "Never Mind the Buzzcocks" on November 30, 2006.
Made a brief appearance as lady in waiting in Cate Blanchett's 1998 vehicle "Elizabeth."
Ran away from her boarding school to see the Glastonbury Festival at the age of 14.
Provided backing vocals in Basement Jaxx's "Lights Go Down" also Robbie Williams' "King of the Bongo" and "Keep On."
Picks "24", "ER", "Desperate Housewives", "CSI", and "Eastenders" as her favorite TV programs.
Song "LDN" had two versions of music videos, the first being a low budget affair to promote the original 7" release and the second to promote the re-release.
Considers "Finding Nemo", "The Usual Suspects", "Crouching Tiger Hidden Dragon", and "Pulp Fiction" to be her favorite movies.
Used many samples in her singles comprised in "Alright, Still", such as those of Professor Longhair's "Big Chief" in "Knock 'Em Out" and John Holt's "For the Love of You" in "Friend of Mine."
Lent her voice to several videogame titles like "Freedom Force", "Thief: Deadly Shadows", and "Freedom Force Vs the Third Reich."
Her favorite bands include Blondie, T.Rex, TLC, Scissor Sisters, and The Clash.