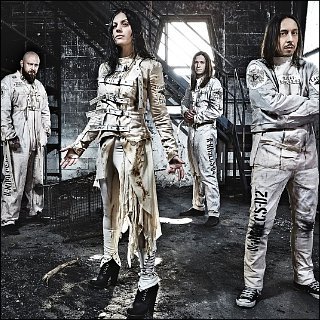 Profile
---
Famous as :
Gothic metal band
Birth Name :
Ethereal
Birth Date :
1994
Birth Place :
Milan, Italy
Claim to fame :
Album "
Karmacode
" (2006)

Biography
---
by AceShowbiz.com
---
Andrea Ferro and Marco Coti Zelati formed a band in 1995 under the name of Sleep of Right. Andre played vocalist of the band, while Marco was its keyboardist. Then, they recruited Raffaele Zagaria and Michaelangelo as guitarist and drummer respectively. As a four-piece band, they released two demo singles, "Bleeding Souls" and "Noise of Bolgia", independently.

Unfortunately, Michaelangelo decided to leave the band and gave the other members no choice other than recruiting new members. Claudio Leo joined as the band's second guitarist, and Leonardo Forti filled in Michaelangelo's shoes. Realizing that they also needed a backing vocalist to support Andrea, they asked Cristina Scabbia to be the backing vocalist, which then led her officially joining Sleep of Right.

In 1997, this alternative metal band changed their name to Ethereal, and lucky for them because shortly after that, they were signed to Century Media. However, the new name had already been used by a Greek band, and so they had to change their name once again, this time they agreed to pick up the name Lacuna Coil, which means empty spiral.

A year later, they released a self-titled mini album "Lacuna Coil [EP]" right before Raffael, Claudio, and Leonardo left the band. After the the mini album's release, they signed Cristiano Migliore and Cristiano Mozzati as their guitarist and drummer respectively. Along with the new members and fellow band Moonspell, they went on a tour.

When their tour was wrapped up, this band were back to the studio and crafted new songs for their first full-length studio album "In a Reverie". They dropped the record in 1999 and re-released it with a new artwork in 2005.

Following "In a Reverie", the band worked on another mini album "Unleashed Memories". Later in 2002, they released their second full-length studio album "Comalies". While working on their next project, this band continued performing in major events, one of which was Ozzfest.

Lacuna Coil's next effort titled "Karmacode" was dropped in 2006. First single off the record, "Our Truth", was included in the soundtrack album of movie "Underworld: Evolution". The album landed at number 28 on Billboard Hot 200 and peaked at number 1 on Top Independent Albums chart.

This band recorded a follow up to "Karmacode" and drop it in America on April 21, 2009. They work with acclaimed producer Don Gilmore, who has worked with Avril Lavigne, Linkin Park and Pearl Jam. ...