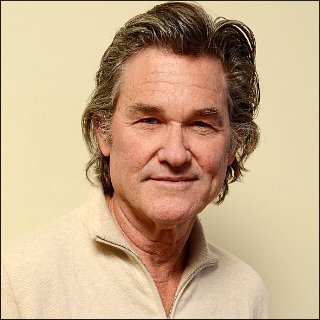 Profile
---
Famous as :
Actor
Birth Name :
Kurt Vogel Russell
Birth Date :
March 17, 1951
Birth Place :
Springfield, Massachusetts, USA
Claim to fame :
As Snake Plissken in "
Escape from New York
" (1981)

Established Cosmic Entertainment in 2003 with Goldie Hawn also her two children, Kate Hudson and Oliver Hudson.
Moved to a mansion in Shaughnessy, Vancouver along with Goldie Hawn in 2003 in order to get close to their son, Wyatt, who at that time played junior hockey in 2003.
Took time to visit the set of TV series "Stargate SG-1" during the shooting process of "3000 Miles to Graceland" (2001).
Provided Elvis Presley's voice in "Forrest Gump" (1994).
Worked with the Chicago Fire Dept.'s Squad 5 to prepare for his role in "Backdraft" (1991).
His role of Crash Davis in "Bull Durham" (1988) was written specifically for him by Ron Shelton.
Got inspired to talk in a raspy voice similar to Clint Eastwood's from the Man With No Name trilogy after noticing the presence of Lee Van Cleef on the set of "Escape from New York" (1981).
Joined the audition for the role of Han Solo in "Star Wars" (1977) and for the title role in "Flash Gordon" (1980).
Was a pro baseball player for California Angels before he experienced an injury on his shoulder which forced him to retire in 1973.
Was voted the Best Looking by his schoolmates at his high school graduation in 1969.
Is a member of the United States Libertarian Party and one of the card-carrying members of National Rifle Association.
Once joined minor league baseball as a second baseman for the Rainbows of Bend then a utility infielder for the Sun Kings of El Paso, Texas.
Has a good relationship with Dick Warlock, his stunt double for over 20 years.
Became Ted Nugent's best man at his wedding.
Was one of the first actors to give an audio commentary on DVDs.
Is Larry J. Franco's brother-in-law and the uncle of Matt Franco, the Atlanta Braves' first baseman.
Gave up his cottage in the Muskoka region in Ontario, Canada after finding out many un-welcomed visitor peeked at it through binoculars from Lake Rosseau when taking a summer vacation there with partner Goldie Hawn.
Has a private pilot license holding single/multi-engine and instrument ratings approved by FAA.
Was featured in the music video of "Voices That Care" and even took part in singing the song in the choir.
Is a huge fan of Elvis Presley, Tom Robinson, and Patrick Rondat.