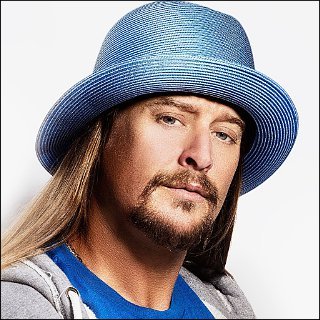 Profile
---
Famous as :
Rock singer
Birth Name :
Robert James Ritchie
Birth Date :
January 17, 1971
Birth Place :
Romeo, Michigan, USA
Claim to fame :
Album "
Devil Without a Cause
" (1998)

Biography
---
by AceShowbiz.com
---
Kid Rock was born Robert Ritchie on January 17, 1971 in Romeo, Michigan, a small rural town north of the Detroit metro area. He is known as a performer of rap music, notably combining rap with the sounds of more traditional rock music and even country music. This third of four children felt bored to live in such small town without nothing to do, except the routine Sunday ceremony at church his Catholic family forced him to attend. Because of that he immersed himself in rap music, learned to break-dance, and began making the talent-show rounds in Detroit.

And it was in 1988 when Rock got a chance to record his first demos, which eventually scored an opening slot at a Boogie Down Productions gig. That demos led him to a contract with Jive Records, which issued his debut album namely "Grits Sandwiches for Breakfast," released in 1990. Produced by Kid Rock, Too $hort, and D-Nice, the album was heavily derivative of "Licensed to Ill," the Beastie Boys debut album released in 1986, by which Rock briefly became notorious when a New York college radio station aired the album's profanity-laced ode to oral sex, "Yodelin' in the Valley." Yet, after sometimes of cooperation, Jive finally dropped him mainly because they didn't see "more" than his tour with Too $hort and Ice Cube.

After such decision, Rock moved to Brooklyn, where he hooked up with the small Continuum label and moved his brand of rap further into hard rock with "The Polyfuze Method," released in 1993. Commenting this, there were some critics praising the record's humor and eclecticism, while others dismissed it as awkward and forced. Won't take those things too serious, Rock released Top Dog imprint, which was also distributed by Continuum. After that he eventually returned to the Detroit area and began work on another album; recorded on a shoestring budget, "Early Mornin' Stoned Pimp," which was released in 1996. Though had no money left in his pocket that he sometimes was forced to sell the illegal recordings of his own music performance, still he wished to set a full-fledged backing band, which he dubbed Twisted Brown Trucker.

Found neither fame nor success with his band, Rock won't miss the chance to work under Atlantic Records who decided to sign him. Soon then he produced "Devil Without a Cause" that didn't do much upon its initial release in August ...