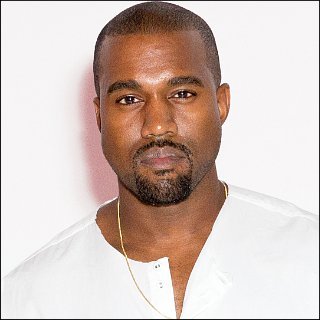 Profile
---
Famous as :
Rapper
Birth Name :
Kanye Omari West
Birth Date :
June 08, 1977
Birth Place :
Atlanta, Georgia, USA
Claim to fame :
Debut album "
The College Dropout
" (2004)

Included in Vanity Fair magazine's annual list of International Best-Dressed Men, released on July 29, 2008.
Voted the 8th in Forbes magazine's "Hip-Hop Cash Kings" list in August 2007 with an estimated earning of $17 million by 2006.
Teamed up with luxury fashion brand Louis Vuitton to help design a collection of men's shoes for the label (June 2008).
Was established as Style Icon of the Year by Stuff magazine in September 2005.
Launched a new online travel company, "Kanye Travel Ventures" (KTV), through his official Website in March 2008.
Teamed up with his father, Ray West, in March 2008 to open The Good Water Cafe in Washington D.C. that will serve drinks that are pure since its aim is to spur awareness of global clean water issues.
Made his literary debut with a book titled "Thank You and You're Welcome," co-written by author and journalist J. Sakiya Sandifer, due to hit shelves January 2008.
Named International Man of the Year at the 10th annual GQ Awards held September 4, 2007 at Covent Garden's Royal Opera House in London.
Teamed up with the Strong American Schools (S.A.S.) in August 2007 for their "ED in an '08" campaign which addressed America's education crisis and dropout epidemic.
Made the host of talent show Thirst Studio Global Sessions in 2007.
Signed a deal to sponsor a race car in the Formula BMW World Finals being held in November 2006 in Valencia, Spain.
Along with fellow musician Ludacris were cleared from a copyright infringement accusation brought by New Jersey foursome I.O.F., stands for It's Only Family, and production company BMS Entertainment/Heat Music LLC over their 2003 hit single "Stand Up".
Was among the many hip-hop and R&B artists appeared in "Block Party", a documentary about Dave Chappelle's dream concert.
Has been chosen to compose the theme song to the highly anticipated "Mission: Impossible 3" (2006).
Leads the Top 10 Best-Selling Albums of 2005 at No. 9 with his album "Late Registration" sold for 2.4 million copies.
Named the 4th Entertainer of the Year by Entertainment Weekly by December 2005.
Utilized his music video of "Diamonds From Sierra Leone" to emphasize the suffering caused by conflict diamonds and the abuse of human rights that happens in the mining process.
"The College Dropout" was mentioned as Album of the Year by nearly every other major national publication, including The New York Times, Time Magazine, Blender, Rolling Stone, GQ, Spin, and XXL.
Had intended to make five different music videos of "Jesus Walks," but in the end he came up with only three videos.
The CD booklet of "The College Dropout" contained 'yearbook-style' pictures of the entire album staffs, including the high school superlatives under the photos. His was "most unlikely to succeed."
Usually called Ye, The Louis Vuitton Don, or Konman.
Asked Syleena Johnson to re-sing the lyric of Lauryn Hill for "All Falls Down" because he was not permitted to use a vocal sample from one of Hill's tracks in her "MTV Unplugged No. 2.0" (2002).
"The College Dropout" (2004) was labeled The Best Album of the Year by The Village Voice Pazz & Jop critics poll while obtained a near perfect 4.5 mic rating from The Source.
Financed and shot the music video of "Through The Wire" by himself.
Asked for an electronic drum machine in order to compose his demo while still being treated in the hospital.
Moved to Chicago at the age of three.
Was in Hoobastank's video of "Same Direction."
Dubbed his debut single "Through the Wire" because when he was recording it he had to sing with a wire brace around his jaw - the result of an October 2002 near fatal accident.
Made a remix with band Maroon 5 on their hit single "This Love."
Composed Monica's hit single "Knock Knock."
Started his own clothing line called "Pastel" and his own record label - G.O.O.D. Music (acronym for Getting Out Our Dreams).
Made his European television debut performing his song "Through the Wire" in "Raymann is laat" (2001).
Produced numerous songs for many artists, like Janet Jackson, Britney Spears, Jay-Z, DMX, Alicia Keys, Common, Mos Def and many more.
Got a near fatal car accident while he was driving home from a studio session on October 23, 2002 that caused him to have a metal plate in his chin.