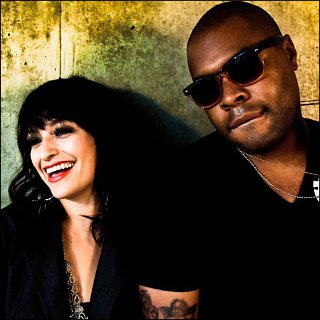 Profile
---
Famous as :
Pop band

Birth Place :
Los Angeles, California, USA

Claim to fame :
Single "Go!" (2006)


Biography
---
by AceShowbiz.com
---
Jupiter Rising were formed by Spencer Nezey and 80.Bug in early 2000. Spencer was influenced by hip-hop/reggae music genre, while 80.Bug came from gospel roots. Despite their difference, the two musicians decided to make music together under the same group, which was named after solar system's biggest planet.

With their unique talents; Spencer's ability of beat-boxing and 80.Bug's vocal edge that few of her peers could match, Jupiter Rising soon grabbed the attention of Chime Records impresario/producer Marc Tanner, who was known for his work with the likes of Madonna and Shawn Colvin. After being signed to the label, they worked on their self-titled debut album and released it in September 2006.

A year later, Jessie Payo, who was originally the band's backing vocalist, joined Jupiter Rising following 80.Bug's exit. Along with Jessie, who had rock and blues background, Spencer returned to studio. They released second studio effort "Electropop", which mostly contained materials from their first album with an addition of a new song with the same name.

In 2008, Jupiter Rising dropped a mini album called "L.A. Girls/Tres Cool EP" as a precursor to their third studio record. They included two new songs; "Tres Cool" and "L.A. Girls", the latter was debuted on MTV's reality show "The Hills".

For next album, Jupiter Rising stay true to their danceable music genres; Pop, electronic and Hip-Hop. Calling the third record "The Quiet Hype", they release it in U.S. market on March 17, 2009. "Our goal is to make music people can relate to, yet that is also new, fresh, and different. Something that is going to last, that has a little more depth," so Jessie commented on what they want to bring for fans.

Jupiter Rising have opened for such big stars as The Black Eyed Peas and %Lupe Their music has also popped up everywhere, being used in the advertisements of Chevrolet, Fox Sports, and Major League Baseball, and being featured in various TV shows, including MTV's "Making the Band 3" and CBS' "The Unit".


Biography was written and copyrighted © by AceShowbiz.com.