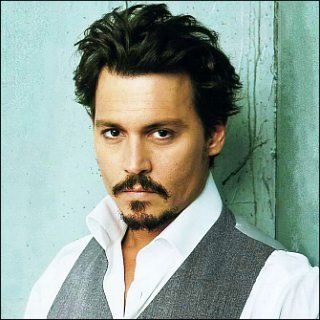 Profile
---
Famous as :
Actor
Birth Name :
John Christopher Depp II
Birth Date :
June 09, 1963
Birth Place :
Owensboro, Kentucky, USA
Claim to fame :
As Officer Thomas Hanson on FOX's "
21 Jump Street
" (1987-1990)

Biography
---
by AceShowbiz.com
---
a famous actor whose picture posted on the wall on every teenage girl's bedroom, idolized by many of them in the universe. Valuing that "teen heartthrob" roles, he was given a chance to reveal his exhausting versatility in the title role of Tim Burton's fantasy "Edward Scissorhands" (1990). In succession to his previous films, this latest flick also became a hit, and so it taught Depp not to repeat himself in his subsequent characterizations. Such thought led him to star in "Cry-Baby" (1990) and even make an appearance in the final installment of "A Nightmare on Elm Street" entitled "Freddy's Dead: The Final Nightmare" (1991), in which he was credited as Oprah Noodlemantra.

From that time on Depp continued gaining critical acclaim and increasing popularity for his work, most notably in "Benny & Joon" (1993), which saw him played a troubled young man who fancies himself the reincarnation of Charlie Chaplin and Buster Keaton. That same year he also played in "What's Eating Gilbert Grape" (1993), which cast him as its title character, a young man dissatisfied with the confines of his small-town life. Following the film, Depp outdid himself in Burton's "Ed Wood" (1994), with his outrageous but lovable portrayal of the angora-sweater-worshipping World's Worst Film Director. The next year in 1995, he tried to play in "Don Juan DeMarco" and "Nick of Time," but failed to garner much attention until he landed his feet in the 1997's "Donnie Brasco" where he played as an FBI undercover agent who infiltrates the mob opposite Al Pacino. Highly praised for that role, Depp took time to write, direct and star in "The Brave" which was released in the same year. Three years later that was in 1998, the actor starred as the alter ego of buddy Hunter S. Thompson in "Fear and Loathing in Las Vegas" co-starring Benicio Del Toro, as he also tried his hand at sci-fi in 1999's "The Astronaut's Wife," along with gorgeous Charlize Theron.

In the near future Depp re-teamed with Tim Burton to star in the magnificently gothic adaptation of the Halloween legend, "Sleepy Hollow" (1999) in a brilliant portrayal of constable Ichabod Crane. Next in the year 2000 he played in various films, like "The Man Who Cried" co-starring good friend Christina Ricci, "Before Night Falls", and "Chocolat". Shortly after his portrayal in those several movies, Depp for one more time got fame for his ...