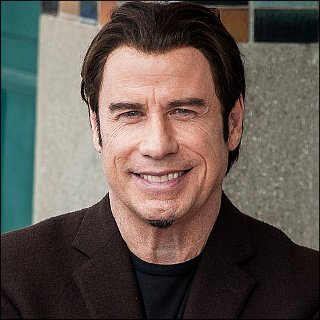 Profile
---
Famous as :
Actor

Birth Name :
John Joseph Travolta

Birth Date :
February 18, 1954

Birth Place :
Englewood, New Jersey, USA

Claim to fame :
As Tony Manero in "Saturday Night Fever" (1977)


He and wife Kelly Preston established a charity foundation, Jett Travolta Foundation, named after their late son Jett Travolta (February 2009).
Became the first man to grace the cover of McCall's Magazine when he appeared in its July 1978 issue.
Presented a $15,000 donation to central Florida tornado victims during the premiere of his movie, "Wild Hogs", on March 2, 2007 that raised an additional $15,000 in donations.
Was once photographed kissing same sex friend on the lips on the steps of his private plane at an airport in Hamilton, Ontario (September 2006).
Secured number 3 in TV's 25 Greatest Teen Idols list compiled by TV Guide in its January 23, 2005 issue.
Has collected two Lifetime Achievement Awards up to the year 2004: the first was granted at the 1998 Chicago International Film Festival and the second at the 2004 Hollywood Film Festival.
Starred in a series of Sky TV commercials by the year 2004.
Was given 3 Razzie Awards for the film "Battlefield Earth" (2000) in 2001 while was also nominated at the 1984, 1986, 1990, 1992, and 2002 events.
Practiced yoga and boxing to remove the fat that bulged around his waistline to prepare for his role in "Swordfish" (2001).
Received Britannia Award at BAFTA/LA Britannia Awards for the Excellence in Film category by 1998 and World Artist Award at Blockbuster Entertainment Awards in 1999.
Had to add thirty pounds to his weight for his role in "Primary Colors" (1998).
Was bestowed American Cinematheque Award at the 1997 American Cinematheque Gala Tribute and Desert Palm Achievement Award at the 1999 Palm Springs International Festival.
Was placed in the 21st rank of Empire Magazine's list of The Top 100 Movie Stars of All Time by October 1997.
Earned Blockbuster Entertainment Awards' nominations for 4 consecutive years from 1997-2000. He brought home one at the former event for his role in "Phenomenon" (1996).
Was selected as Funniest Actor in a Motion Picture (Leading Role) at the 1996 American Comedy Awards for his role in "Get Shorty" (1995).
Became the Outstanding Performance by a Male Actor in a Leading Role nominee at the 1995 Screen Actors Guild Awards for his role in "Pulp Fiction" (1994).
Brought home two out of 10 MTV Awards' nominations he has collected from year 1995 to 1998 at the 1995 and 1998 events.
Won the category of Best Foreign Actor (Migliore Attore Straniero) at David di Donatello Awards and an ALFS Award at London Critics Circle Film Awards for Actor of the Year category in 1995 for his role in "Pulp Fiction" (1994).
Got nominated for the Best Actor category at the 1995 BAFTA Awards also by Academy of Science Fiction, Fantasy & Horror Films in 1998.
Agreed to portray Chili Palmer in Barry Sonnenfeld's "Get Shorty" (1995) upon Quentin Tarantino's suggestion.
Was cast as Vincent Vega in "Pulp Fiction" (1994) after Michael Madsen, the actor whom the part was written for, departed from the project.
Became the most frequent actor to appear on the cover of Rolling Stone Magazine in 1994 as he was featured for 4 times throughout that year.
Purchased a three-bedroom beachfront oceanfront estate, on Oahu in Hawaii in 1986, but later sold it to Kathy Ireland for $3 million.
Has released two books which entitled "John Travolta Staying Fit!" in 1984 published by Simon and Schuster and "Propeller One-Way Night Coach (A Fable for All Ages)" in 1997 under Warner Books.
Was in the line for the role of Allen Bauer in "Splash" (1984), but quitted after being discouraged by his agent. It later was secured by Tom Hanks who also nabbed the roles he rejected in "Apollo 13" (1995) and "Forrest Gump" (1994).
Suffered from insomnia while filming "Blow Out" (1981).
Was selected as Man of the Year by Harvard's Hasty Pudding Theatricals in 1981.
Gained the title of Male Star of the Year at the 1978 and 1998 Golden Apple Awards also at the 1996 ShoWest Convention.
Was named Best Actor at the 1977 NBR Awards, the 1994 Stockholm Film Festival, the 1995 LAFCA Awards, and the 1996 SEFCA Awards.
Learned how to dance to disco music for 9 months when filming Saturday Night Fever (1977).
Was included in the list of Promising New Actors of 1976 in John Willis' Screen World, Vol. 28.
Converted to Scientology in 1975 after being introduced to this belief system by actress Joan Prather when filming "Devil's Rain" (1975).
Was offered roles in "Tootsie" (1982), "Good Will Hunting" (1997), "Jackie Brown" (1997), and "As Good As It Gets" (1997), but turned down all of them.
Actually was billed to portray Jim Morrison in an early '80s biopic about The Doors, but the project was later dropped due to legal problems.
Turned down roles in "Days of Heaven" (1978), "American Gigolo" (1980), "An Officer and a Gentleman" (1982), and "Chicago" (2002) which all went to Richard Gere.
Often eats at Denny's in the middle of the night and even took a scene there when filming "Lucky Numbers" (2000).
His white suit he wore in "Saturday Night Fever" (1977) was sold at Christie's for $145,000.
Once worked as a grocery cashier, ticket man, luggage handler, and stock-boy at a grocery frozen food before his acting career took off.
Broke his nose at age 13 while diving into a pool.
Won a twist-dancing contest at the age of 8.
Had befriended James Cagney, Cary Grant, and Barbara Stanwyck.
Has 5 houses located each in Florida, Santa Barbara, California, Maine, and Hawaii. His main residence is in the former one where he owns a large home completed with airstrip for his planes.
Is a qualified pilot and once made a successful emergency landing of a Gulfstream IIB with complete electrical failure at Washington Reagan National Airport in December 1993.
Owns a Silver Blue Mercedes 450 SL, a 1955 Ford Thunderbird and five airplanes, including a former Qantas Boeing 707-138 B which he named Jett Clipper Ella.
His favorite band is The Beatles.
Is the best friend of Kirstie Alley.
His favorite childhood movies were "Yankee Doodle Dandy" (1942) and "Mary Poppins" (1964) while his favorite foreign films include "Un homme et une femme" (1966) and "La Strada" (1954).
Was chosen as the 64th Greatest Movie Star of All Time by Entertainment Weekly.
Has also developed a career in music and released several albums which included "Can't Let Go" and "Travolta Fever."
Is the favorite actor of Oprah Winfrey.
His favorite color is white.
Had a nickname of Bone during his childhood due to his skinny figure at that time.
His family name means "high voltage" in Italian.
Is of Italian and Irish heritage.
Can speak French and play violin also guitar.