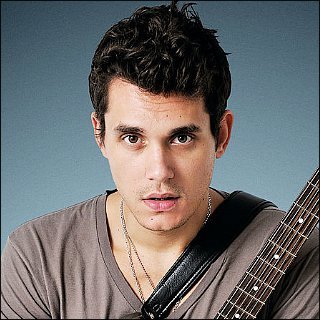 Profile
---
Famous as :
Blues singer, songwriter
Birth Name :
John Clayton Mayer
Birth Date :
October 16, 1977
Birth Place :
Bridgeport, Connecticut, USA
Claim to fame :
Album "
Room for Squares
" (2001)

Biography
---
by AceShowbiz.com
---
John Mayer was born John Clayton Mayer on October 16, 1977 in Bridgeport, Connecticut to English teacher Margaret and high school principal Richard. The middle child grew up in Fairfield, Connecticut where he attended the local high school before enrolling at Center for Global Studies at Brien McMahon High School in Norwalk.

His love of music, especially blues, was stemming from Michael J. Fox's guitar performance in "Back to the Future". Teen Mayer started taking guitar lessons from a local guitar-shop owner and he got addicted instantly. So serious was he in playing the instrument that his parents took him to see psychiatrist. His parents also prevented him from skipping college in favor of music career.

Years of practice finally came to a defining moment where he was booked to play at local blues bars. Mayer had a band but he was also writing his own songs. In an interview he said his songwriter nature came after a hospitalization when he was 17. He penned his first lyrics after leaving the hospital but his mental health was spiraling down at the same time his creativity burst up. Living in fear, Mayer resorted to anti-anxiety drugs such as Xanax, but the episode soon passed.

After graduating from school, he gathered money from his payroll as gas station attendant. His desire of music led him to Berklee College of Music in Boston, Massachusetts but he did not finish the course after two semesters. Instead, he followed a friend, Clay Cook, to Atlanta to form a duo called LoFi masters. They performed in local clubs and coffee houses but soon their creative differences broke the group apart.

However, Cook continued to be involved in Mayer's solo career, co-writing most of the songs found in Mayer's first indie EP. With the help of producer Glenn Matullo, "Inside Wants Out" launched Mayer's career in the industry. As he performed in one city and another, Mayer began to build his reputation among music lovers. After his performance at South by Southwest, he was signed to Aware Records which later released his internet-only album, "Room for Squares".

In a deal with Columbia Records, Aware gave the re-release distribution rights of "Room for Squares", which in 2001 became a major release. Tracks from the album like "No Such Thing" and "Your Body Is Wonderland" propelled Mayer's popularity so fast that he received his first Grammy in 2003 for ...