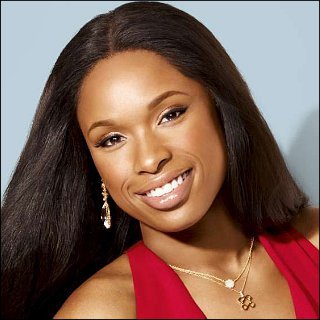 Profile
---
Famous as :
Singer, actress

Birth Name :
Jennifer Kate Hudson

Birth Date :
September 12, 1981

Birth Place :
Chicago, Illinois, USA

Claim to fame :
Finalist of "American Idol" Season 3


Featured in GAP holiday ad campaign, modeling its Wintersoft Turtleneck (November 2008).
Nabbed a Hollywood Magazine's Breakthrough Award for her role in "Dreamgirls" (2006).
Is bid congrats from acid tongue "American Idol" judge, Simon Cowell through a tape viewed in Oprah Winfrey's show.
Featured in Meat Loaf's song "The Future Ain't What It Used to Be".
Is adored by her fellow warrior in "American Idol," Jasmine Trias.
Appear in Barack Obama's video blog series along with Sophie Okonedo and Alicia Keys to urge people to register to vote.
Proposed with a Neil Lane diamond ring by reality TV star David "Punk" Otunga.
Ranked 8th in Forbes.com's first-ever analysis of Top-Selling Famous Faces (October 2007).
Considered to have the Sexiest Lips in the so-called "What is Sexy?" list compiled by Victoria's Secret in April 2007.
Signed to be the exclusive spokesperson for cosmetic giant Avon for its Imari brand and new scent, Imari Seduction (March 2007).
Is given 'Jennifer Hudson day' dedicated for her on March 6 by Mayor of Chicago, Richard Daley (2007).
Becomes a close friend to singer Beyonce Knowles since their involvement in "Dreamgirls" (2006).
Is a big fan of Whitney Houston and dreams of making collaboration with the artist.
Is one of very few artists to ever receive an Academy Award nomination on the debut role.
Is the first American Idol alumna to be nominated in Academy Awards.
Her role Effie White that she plays in the movie "Dreamgirls" unlike the upturn in the movie, didn't reach success in the career and died at age 32.
Was born only a few months after the actual "Dreamgirls" band made their debut on NY Broadway stage.
Beat Fantasia Barrino for the role as Effie White in "Dreamgirls" (2006) after she is defeated in American Idol cycle 3.
Won the role Effie White in "Dreamgirls" over 782 other contestants.
Is the third African-American actress to win Academy Awards' Best Actress in Supporting Role since Hattie McDaniel and Whoopi Goldberg.
Is the third African-American artist to appear in cover of Vogue after Oprah Winfrey and Halle Berry.
Was going to sing "Over the Rainbow" during the Movie theme in American Idol, but was told to do Kimberley Locke's version and finally sang Whitney Houston's "I Have Nothing" instead.