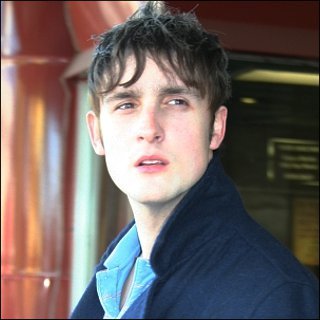 Profile
---
Famous as :
Actor

Birth Name :
James Clayton Holzier

Birth Date :
August 11, 1984

Birth Place :
Fairfax, Virginia, USA


Biography
---
by AceShowbiz.com
---
In the brink of success and fame, James Holzier was probably known most for his interesting life rather than his career as an actor. However looking back on how strong his willpower to become an actor and how determined he was joining auditions to appear in movies, who knows he might be the next big thing in Hollywood.

As unique as his personality, James' birth was one of the rare cases where he was almost non-existent. His mother Christine Holzier had as much as five miscarriages before giving birth to daughters Kristie and Carrie, thus after the two children she was prohibited by doctor to have anymore babies. However, she and her husband Jim wanted to have a son and amazingly one day she was pregnant and resolutely kept the baby even though it was an impossible one. Despite the doubt, James was born three months too early but managed to live through to the very end after suspended to life sustain for months.

Originally born in Fairfax, Virginia, he was raised in Houston because his father had to do a work there. In that same town, little James grew his interest in acting as early as three years old. He loved to become the center of attention and to steal the spotlight from local talent shows, so he begged his mom to send him to drama schools but only managed to enter some workshops. He refused to give up, but being too young, the eleven years old James was rejected from a local talent contest because it was meant for 18 years old and above. "A lot of people would ridicule, tease me, and say things. But I really didn't care." Persistent as always, the director of the contest finally gave up and allowed him to perform, and surprisingly he was on the top 3. After this, his name was heard by people more often as the small boy who had extraordinary talent. Then at the age of 13, an adult acting workshop invited him to join them and thus he became the only youngster there.

Appearing in commercials, he groomed his passion in acting and his debut on screen was in the family movie titled "Willy the Hitman" (1994) where he straightaway became the male leading actor. Displaying a good performance and sporting the kind of look that many may favor, he was predicted to be the new ...