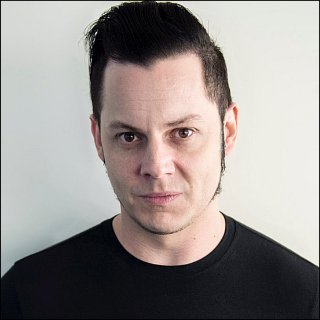 Profile
---
Famous as :
Musician

Birth Name :
John Anthony Gillis

Birth Date :
July 09, 1975

Birth Place :
Detroit, Michigan, USA

Claim to fame :
Lead vocalist of The White Stripes


Biography
---
by AceShowbiz.com
---
Jack White was born John Anthony Gillis on July 9, 1975. The son of Teresa and Gorman Gillis is the youngest of ten children who were raised Catholic in the tough neighborhood of Detroit, Michigan. His mother, who was also the youngest child of ten, was 45 when she had him. "So when I was in high school my parents were the same age as my friends' grandparents," he said in an interview.

White started playing music at the age of six when he learned how to play the drum. He listened to Jimi Hendrix and The Who in his teen years, sharing his taste with childhood friend Dominic Suchyta. Together they recorded cover songs and formed a band with White's brother Eddie. Another friend Brian Muldoon introduced him to punk music. As a duo with White in the guitar, they recorded an album and called themselves The Upholsterers.

When his furniture business did not work, White landed a job as drummer for local bands and performed solo shows. He met Meg White in early 1990s at Memphis Smoke, a bar in Detroit suburb where she worked as a waitress. They got married in September 1996 and formed The White Stripes the next year. They played with local bands before signing with Italy Records in 1998 to release their first album, a self-titled set, in 1999. Their second album "De Stijl" was released on the Sympathy for the Record Industry label in June 2000 and peaked at number 38 on Billboard's Indie Albums chart.

Early in their career, the Whites said that they were siblings but a paper later obtained a copy of their marriage license and their divorce papers. White said that asking their status was irrelevant to their arts and that the bond between siblings was stronger than most. With White Stripes, White released four more studio albums until Meg suffered from acute anxiety and forced the band to go on hiatus. The band formally announced their professional split on February 2, 2011.

White performed five songs for "Cold Mountain" soundtrack and met actress Renee Zellweger on the set. They dated briefly and broke up in 2004. He later dated the model of White Stripes' music video for "Blue Orchid", Karen Elson. White married her in June 2005 in Manaus, Brazil, officiated by a shaman. Their first child was born in 2006, a girl, and the second was ...