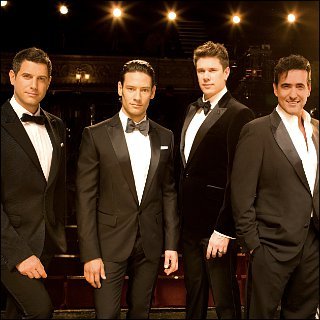 Profile
---
Famous as :
An operatic vocal group
Birth Date :
2001
Birth Place :
London, England
Claim to fame :
Album "
Il Divo
" (2005)

Biography
---
by AceShowbiz.com
---
(born October 13, 1963) is of Spanish ancestry but was born in Germany. With his deep voice, the baritone claimed the trademark as 'primo baritono' in loads of operas. His musical education included the lessons from the legendary tenor, Alfredo Kraus. Providing the 'pop' voice in this band is Sebastien Izambard (born March 7, 1973 in Paris), the only self-taught member who has produced and written songs for many French singers.

Comprised by proficient individuals was not enough for a band to launch its identity. Il Divo blatantly remade some songs in their unique version. Like a bag full of mix candies, their first album 'Il Divo' offered songs in three different languages, English, Italian, and Spanish. Tony Braxton's 'Unbreak My Heart' was sung in more dramatic version and their single 'A Mi Manera' was adapted from Frank Sinatra's 'My Way'. Also, there were more pop tunes in singles 'The Man You Love', 'Everytime I Look At You' and 'Feelings'. The result was brilliant as 'Il Divo' earned Platinum in both U.S. and Sweden as well as obtained double Platinum in Australia besides smashed Led Zeppelin's 25-year-old selling record of being the only band to score a number 1 album without a single released.

Following their initial success, the band also recorded a Christmas album titled 'Christmas Collection' in 2005, then circulated DVD 'Encore' in 2006 as well as releasing the hopeful 'Ancora'. Handled by experts, like Per Magnusson, David Kreuger and Steve Mac, this album was more than conventional. In U.S. version, their rendition of Mariah Carey's 'Hero' was twisted into classical tune while 'I Believe in You (Je Crois en Toi)' was made into a harmonious collaboration with Celine Dion. In U.K's version, the track list was added with old time favorite 'Unchained Melody' and two songs taken from the previous albums, 'O Holy Night' and 'Ave Maria'. Confident with this album, Il Divo is set to conquer the music industry and awes its fans all over the world.


Biography was written and copyrighted © by AceShowbiz.com.