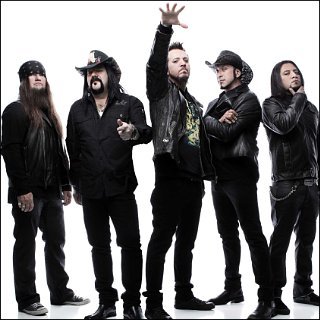 Profile
---
Famous as :
Heavy metal supergroup
Birth Date :
2006
Birth Place :
Dallas, Texas, USA
Claim to fame :
Debut album "
Hellyeah
" (2007)

Biography
---
by AceShowbiz.com
---
exist with these guys. Everybody was in the right frame of mind and we all wanted to go out and kick some ass." And thus, Vinnie joined the club.

During summer 2005, these people gathered in home studio that was located inside Vinnie's late brother's house in Texas. Upon their work, music was pouring out like they couldn't get enough. Gray described the moment as "so right and so good that all just wanted to throw down and do something that came from the heart and was all for fun and for the love of making music." Within a week, seven songs were ready but they couldn't rush into a record as each member had to juggle with previous commitments. So they worked extra hard to produce songs that lifted the weight of Tribbett and Maxwell's crushing riffs, Vinnie and Montano's solid rhythms and Gray's aggressive roar. As a result, bone chilling and mind frying metal sounds were heavily present in tracks "Hellyeah," "Goddamn," and "Rotten to the Core". These songs represented the band's mood, but they did not trap themselves in this genre. Tribbett was challenged to add a country vibe but couldn't pull it himself. He asked the help of Chad who eventually got to the chorus and finished the song in 20 minutes. The song was eventually titled 'Alcohaulin' Ass'. Meanwhile, there was still an attempt to 'soften' the selection of songs with the inclusion of power ballad 'Thank You', sentimental 'Star' and also instrumental 'In the Mood'. It was then that the songs were ready to be molded into a record.

In between the tight schedule making songs, the band had to start thinking about naming the band. They came up with few options but finally 'Hellyeah' that came upon a joke stole the spot. With the moniker the band set to release self-titled effort on April 10, 2007 before initially giving the first taste of their music through track 'Hellyeah' in February 2007. Sadly, the band had to go through a formation change just when the album started gaining attention. Citing personal problem, Montano announced his resignation from the band until the new member can be found. On April 19, the bassist void was finally given to Bob Zilla and substantially, the band was in high demand to perform the album live. Within their schedule are Download Festival on June 9 and Family Values Tour ...