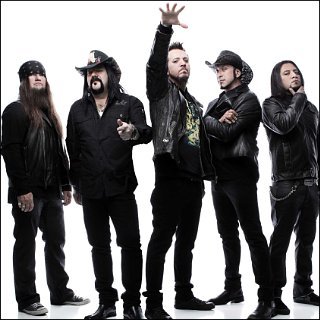 Profile
---
Famous as :
Heavy metal supergroup
Birth Date :
2006
Birth Place :
Dallas, Texas, USA
Claim to fame :
Debut album "
Hellyeah
" (2007)

Biography
---
by AceShowbiz.com
---
What happen if Damageplan, Pantera, Mudvayne and Nothingface combine? You get Hellyeah! That's the proper way of describing the supergroup that ruled the Billboard chart at #9 the first week the self-titled album 'Hellyeah' was released. Selling 45,000 copies, the album was the only debut beside Bright Eyes' 'Cassadaga' to enter the Top 40 chart in that week, thanks to the brilliant sound of lead single 'You Wouldn't Know' that continuously climbed up the U.S. Mainstream Rock Chart for more than 10 weeks and peaked at #10. Moreover, anticipating the empty slot of bassist after Jerry Montano departed from the band just weeks after the album's release, the band quickly filled it with Damageplan's ex-bassist Bob Zilla. These lots are just getting interesting.

Although officially formed in 2006, the heavy metal group's story came long before that. In 2003 Chad Gray from Mudvayne approached Nothingface's Jerry Montano and Tom Maxwell to do a work together. They had previously known each other through the tours that eventually created a bond among them. While Gray's band took a break post a tour, the vocalist traveled all the way to Baltimore, Maryland, which was Nothingface's base camp, to meet Montano and Maxwell. One chat and one writing process after, the threesome produced a track called 'Waging War'. Little did they know that this track would one day be included in Hellyeah's debut album. The mutual relationship had to stop temporarily, as Gray was indebted to do the work for Mudvayne's 'Lost and Found' (2005).

Few months after completing his task, Chad who was excited by the first collaboration couldn't help but contacted the two Nothingface members again but with a better idea this time. Tagging along his guitarist band mate Greg Tribbett, Chad had a band in mind. Four in the house, they needed a drummer to form a complete band. One name after another failed to impress them that they finally called an old friend Vinnie Paul Abbot who was at that time already parted ways with Pantera and Damageplan. Unfortunately, Vinnie was not ready to start a new band for his commitment at that moment was to his Big Vin Records. However, the offer kept coming in the back of his head. Paul recalled that moment saying, "Everybody had a killer attitude and any of the hardships and usual rock n' roll bullshit I'd been through with Pantera and Damageplan, didn't ...