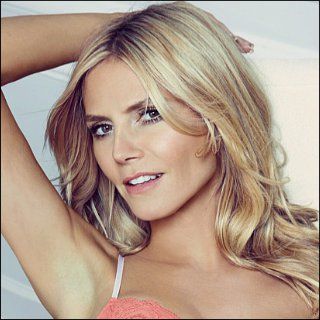 Profile
---
Famous as :
Supermodel, actress, fashion designer

Birth Date :
June 01, 1973

Birth Place :
Bergisch-Gladbach, Germany

Claim to fame :
Model for Sports Illustrated magazine and Victoria's Secret catalog


Having her request to adopt husband Seal's last name officially approved by a Los Angeles court commissioner on November 20, 2009.
Starring in commercial for computer game "Guitar Hero: World Tour" (November 2008).
Starring in "Got Milk?" ad in October 2008.
Included in People magazine's annual list of Best Dressed Women of 2008.
Picked 3rd on Maxim Magazine's list of 9 Hottest Pregnant Women, Ever (November 2007).
Had her legs valued at $1.96 million by London auction house Phillips De Pury and Company that specializes in putting estimates to jewelry.
Named Hottest Mama at Life & Style magazine's 2nd Stylemaker's Awards, held September 14, 2006 in Los Angeles.
Had her debut single, titled "Wonderland", hit German shops on November 17, 2006.
Ranked 3rd in Forbes magazine's list of Highest Paid Supermodels in 2007, with a total earning estimated at $8M per year.
Signed as the new face of clothing company Jordache (May 2007).
Chosen the 9th in In Touch magazine's list of Hollywood's Hottest Blondes in March 2007.
Voted the 7th Hollywood's Hottest Mom in a poll conducted by American magazine "In Touch" in November 2005.
She and Seal were ranked the 10th Hollywood's Most Romantic Couple on a poll conducted by In Touch magazine in September 2005.
She, along with Seal, was included in People's annual "50 Most Beautiful People" list by April 2005.
Dropped from a lucrative contract with German fashion house "Otto" after the bosses heard she's expecting a child with fiance Seal (March 2005).
Had her book "Body of Knowledge: 5 Rules of Model Behavior" published in 2004 through Crown Publishing.
Ranked #82 Most Powerful Celebrity in Forbes' Top 100 Celebrity List in 2003.
Joins an American Red Cross and the Elizabeth Glazer Pediatric AIDS Foundation.
Named her fragrance products "Heidi Klum". It includes an Eau de Toilette, deodorant spray, shower gel, lotion and purse spray.
Had her image designed as an Austrian stamp for charity in support of the victims of Aids.
Signed a two-year deal with burger giant McDonald's to bolster the company's image.
Hosted MTV's Fashionably Loud Europe and Model Mission shows.
Her original Birkenstock shoes has the Heidi-Klum-logo in the sole.
Her original signature has a round and transparent button of genuineness showing Heidi Klum logo in black and red sticks on. It is manufactured by a german factory in Kreuztal.
Self-designed "The Heidi Klum Collection" for prestigious fine jeweler Mouawad.
Has her own fashion line called "My Favorite Candies".
Her own paintings have even appeared in national magazines.
In 2002, she appeared in the Jamiroquai video of the single "Love Foolosophy".
Her name is patented for the new type of rose "Heidi Klum Rose" by a German grower.
Heidi's good luck charm is a small bag full of the teeth she lost as a child.
Her last name pronounced "Kloom".